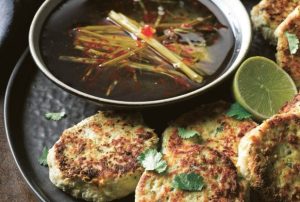 These bad boys are really easy to make and always a hit, whether at the dinner table, or handed around as bite-sized delights at a party. This is the perfect way to use cheaper cuts of fish! Check out the original recipe here.
INGREDIENTS:
Fish cakes:
1 zucchini, grated
3 spring onions, roughly chopped
1 egg
2 tablespoons cornflour
⅓ cup Rock Out with Your Wok Out sauce, or any soy-based or ginger stir-fry sauce
½ teaspoon sesame oil
Zest and juice of 1 lime
30g coriander
20g mint
Oil for cooking
Sweet chilli sauce:
1 long red chilli
5cm piece of lemongrass
½ cup white sugar
½ cup white vinegar
2 kaffir lime leaves (or zest of 1 lime)
METHOD:
Firstly to make the sweet chilli sauce, deseed then finely dice the chilli, and whack the lemongrass a few times with the back of a knife to release the goodness, but leave it whole.Place the chilli and lemongrass in a small saucepan with the sugar, vinegar and lime leaves or zest, and stir to combine.
Simmer on a low heat for about 30 minutes. The sauce will be a lot runnier than store-bought varieties, but is really delicious and perfect for dipping.
Next put all of the ingredients for the fish cakes into a blender and pulse to combine.
Heat a frying pan with a good amount of oil. Take heaped tablespoon-sized amounts of fish cake mixture and add to the pan. Cook 5 or 6 at a time (you will get 12–14 in total), and fry for about 1½ minutes each side, until the fish cake has turned white and a little golden on the outside, but is still juicy and moist inside.
Serve the fish cakes with the sweet chilli sauce. Pile them all on a platter and garnish with extra fresh coriander if making to share with friends. Serves 4.