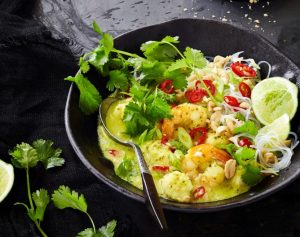 A soup for all seasons – fragrant with ginger, coriander and juicy fish and prawns. Can be served with rice instead of noodles. Check out the original recipe here.
INGREDIENTS
1 onion, chopped
2 tablespoons chopped fresh ginger
2 cloves garlic, crushed
½ teaspoon ground turmeric
¼ teaspoon chilli flakes
2 tablespoons fish sauce
¼ cup roughly chopped coriander roots and stems, leaves reserved
2 tablespoons coconut oil
400ml coconut cream
1 teaspoon caster sugar
2 cups fish or chicken stock
500 grams firm white fish, cut into 4cm pieces
12 large, raw peeled prawns
TO FINISH
100 grams cooked vermicelli rice noodles
GARNISHES: thinly sliced spring onions and fresh red chilli, chopped roasted cashew nuts or peanuts, lime wedges, reserved coriander leaves
METHOD
Put the onion, ginger, garlic, turmeric, chilli, fish sauce, and coriander, roots and stems in a food processor and blend until smooth.
Heat the oil in a large saucepan and add the paste. Cook over a medium heat until fragrant and the onion is cooked, about 10 minutes, stirring frequently. Stir in the coconut cream, caster sugar and stock and bring to the boil.
Simmer uncovered for 10 minutes. Add the fish and prawns, cover and cook gently for a few minutes until just cooked through.
TO SERVE: 

Place a pile of noodles in each bowl then ladle over the soup, dividing the fish and prawns evenly. Top with desired garnishes and serve immediately.

 SERVES 4.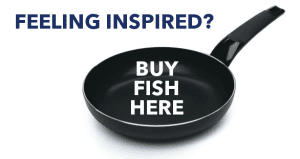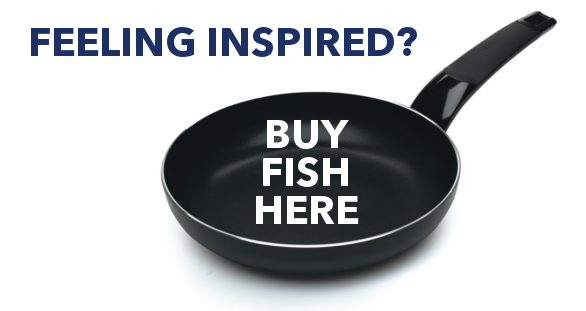 Tags:
blue moki
,
curry
,
fresh
,
gurnard
,
kingfish
,
Monkfish
,
Prawns
,
recipe
,
snapper
,
spicy
,
tarakihi
,
trevally
,
warehou
Categories:
Recipes