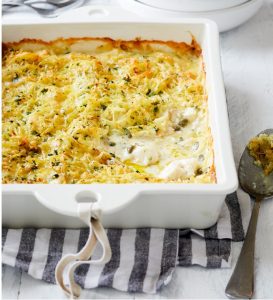 A gorgeous, crispy, cheesy potato topping finishes this creamy caper-laced fish pie and calls out for warm crusty bread for mopping up the sauce. Check out the original recipe here.
INGREDIENTS
30 grams butter, at room temperature
3 tablespoons plain flour
2 cloves garlic, crushed
1 cup milk
1 cup chicken stock
2 teaspoons dried tarragon
1 tablespoon Dijon mustard
2 tablespoons capers, roughly chopped
600 grams firm white fish cut into bite-sized pieces
400 grams agria potatoes, peeled
1 cup grated aged cheddar cheese
2 spring onions, finely chopped
small handful parsley, finely chopped
2 tablespoons melted butter
sea salt and ground pepper
METHOD
Preheat the oven to 180°C fan bake.
Put the butter, flour and garlic in a small bowl and mash together with a spoon until it forms a smooth paste. Put the milk, stock and tarragon into a large saucepan and bring to the boil. Whisk the butter mixture into the simmering milk in 4 lots.
Season with salt and pepper then simmer gently over a low heat for 8 minutes to cook out the flour and thicken, stirring occasionally. Stir in the mustard, capers and the fish, then tip into a large shallow baking dish.
Grate the potatoes on the large holes of a box grater. In batches, spread out over a clean tea towel, roll up tightly then squeeze out excess water. Place in a large bowl and season generously. Add the cheese, spring onions and parsley, then toss with the butter.
Scatter loosely over the fish and bake for 30–35 minutes or until bubbling and golden on top. Serve with a cooked green vegetable or salad and crusty bread. SERVES 4.