Frequently Asked Questions
Click on one of the questions below to view the answer…
Are you a sustainable fishery?
Yes, our operations are part of the Quota Management System which is monitored by the Ministry for Primary Industries. The boats that land fish into us are small vessels – not the enormous factory ships that some people imagine when they think of commercial fishing. We love fish and seafood and want our grand kids to be able to enjoy it too.
Are your fish fresh?
Yes, our fishermen work hard to keep a constant supply of fresh fish and sometimes that means going out fishing in rough weather. We often unload boats early in the morning and dispatch that fish the same day.
If I order frozen seafood via your website will it still be frozen when it gets to me?
Yes, our blast freeze processing technique and packaging technology ensures your frozen product will get to you in perfect condition.
What is SNAP IT UP?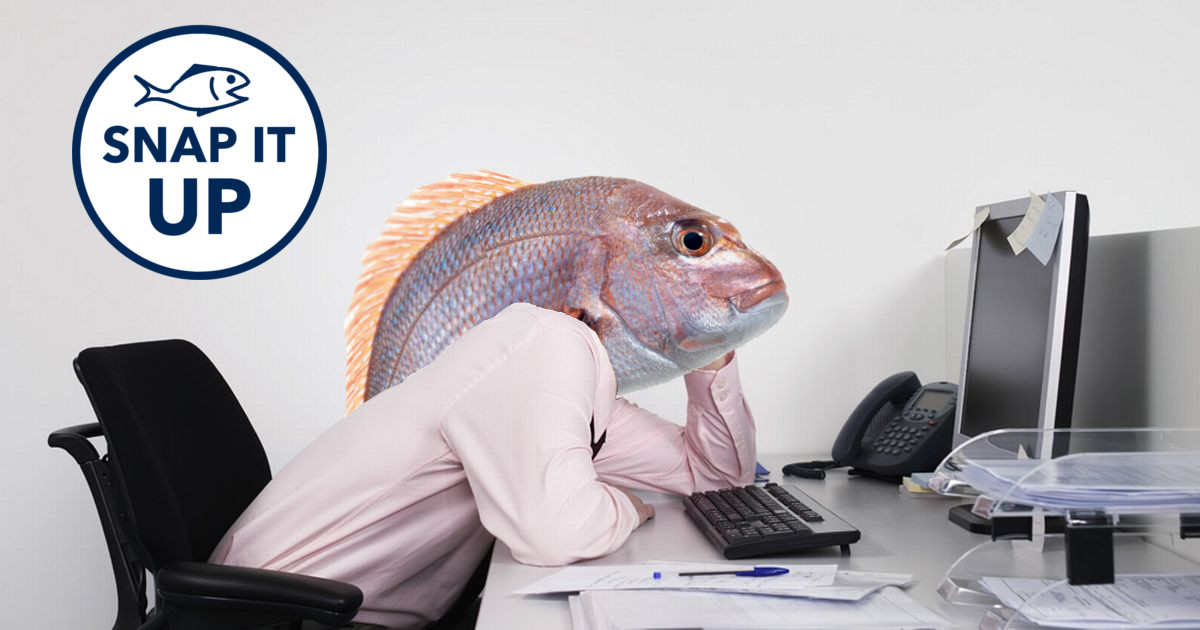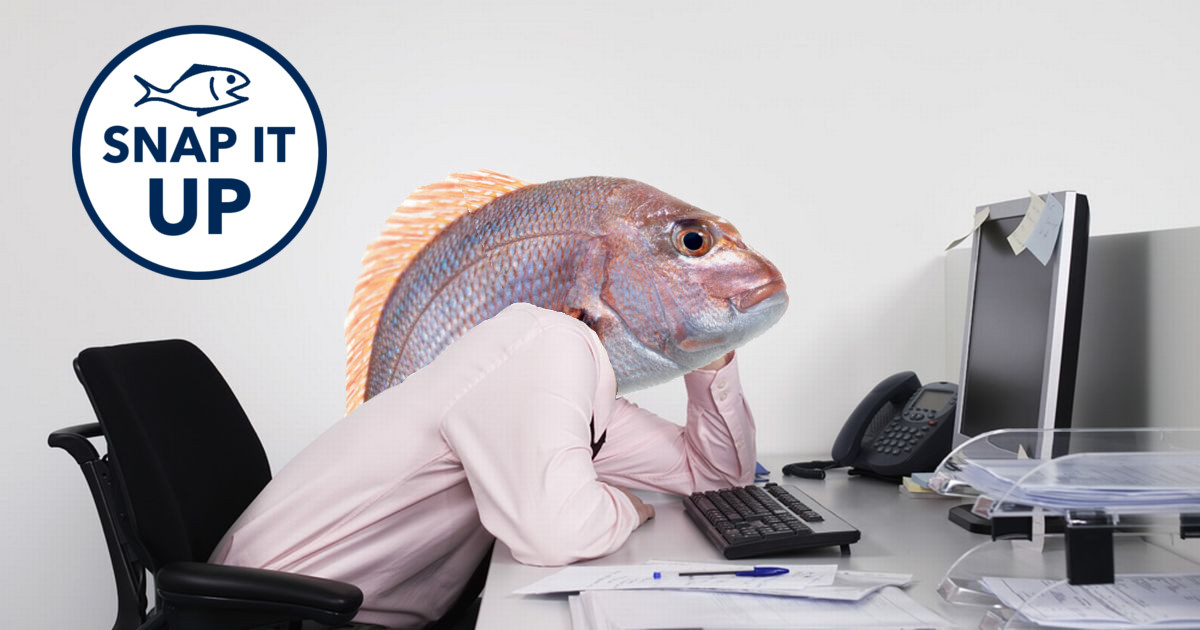 SNAP IT UP is a way for you and your colleagues to get the freshest deals on fish, and free freight.
We give your business a coupon code which gets entered at our online checkout. Workmates can choose to buy whatever tickles their fancy on our website and pay for their own order. We then consolidate all the orders for each workplace and the fish arrives in one delivery (on Thursday) and each person can take home their individually wrapped and labeled fish for dinner. Easy and efficient. We don't have a strict minimum order quantity but ideally would need four workmates buying together.
Simply fill in the form below to request a code for your business. Or if you have some specific questions give us a call on 06 751 5700 or email us at sales@egmontseafoods.co.nz.
Hit SEND once you've filled in the form below and we'll be in-touch shortly.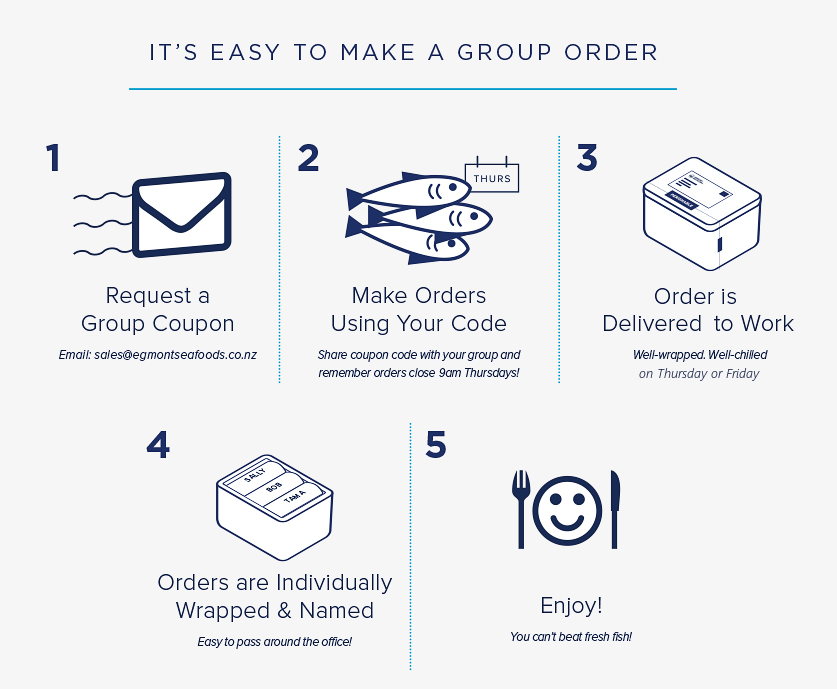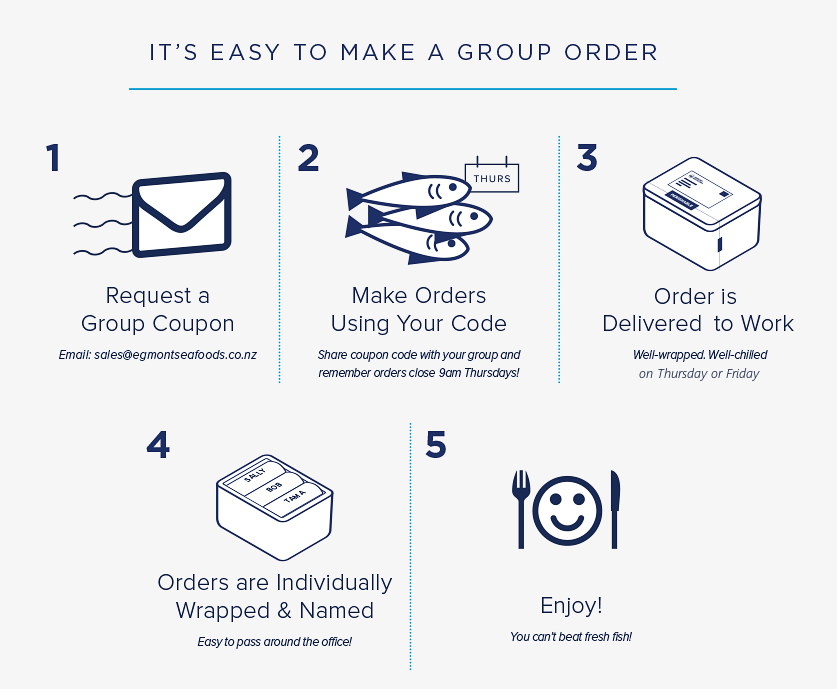 Where can deliveries be made to?
We are sending fresh, chilled seafood and therefore can only deliver to urban areas throughout North Island.
Place your fresh seafood order before midnight and we will pack your order the next morning and send it on the same day to you.
Taranaki/Wanganui/Manawatu urban orders are same day delivery as your fresh seafood orders will be packed and delivered on the same day via NZ Couriers. e.g. Your fresh seafood order placed Monday before midnight will be packed and delivered to you on Tuesday.
All other North Island orders take 1-2 days delivery as your seafood order will be packed the next day & then will be delivered overnight via NZ Couriers e.g. Your fresh seafood order placed Monday before midnight will be packed Tuesday and delivered overnight to you on Wednesday.
Rural Orders – Unfortunately we can't deliver to rural addresses but the couriers can drop your parcels off at a local pick up point. In Taranaki the following RD1 stores are available for you to collect from for next day delivery. The stores include Inglewood, Kaponga, Opunake, Waitara, Pungarehu. Simply enter their address when you are placing an order online and put in the notes that you will collect once your seafood order has arrived. If you're unsure if you address is rural please check your zoning HERE.
Unfortunately due to Covid-19 there will be no Saturday deliveries so if you are wanting fish for Friday then Taranaki/Wanganui/Manawatu residential customers need to have their orders in by midnight Thursday. All other North Island customers will need to have their orders in by midnight Wednesday to ensure that the seafood arrives to you on Friday.
When your order has been packed we send you a Track & Trace Number from NZ Couriers. You can track your order from leaving Egmont Seafoods until it is delivered to your front door.