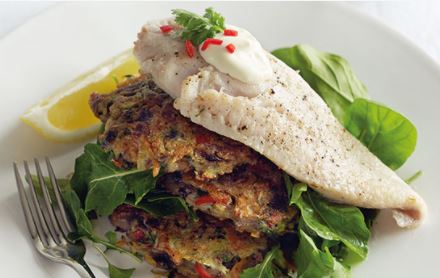 Fresh fish, scrumptious fritters and tangy rocket this is delicious topped with sour cream. You can use any grated vegetable in the fritter if you would like to mix it up. Check out the original recipe here.
2 eggs
½ red chilli, diced, no seeds, (optional)
½ 250g white button mushrooms, finely diced
2 Pam's Fresh Express Courgettes, grated
3-4 Greater Good Mini Carrots, grated
½ Superb Herb Coriander, chopped
120gm Fresh Express Baby Rocket
125g Sour Cream
ALSO NEED: olive oil, cornflour, baking powder, cold water (fizzy if possible), salt and pepper
Make the batter by mixing ½ -1 cup water, 1 cup cornflour, 2 eggs, and ½ tsp baking powder.
Season well.  Add chilli, more if you like it hot.
Mix batter with vegetables and the coriander.
Heat the oil in a pan on medium/high.
Cook the fritters -1 heaped tablespoon of mix which will spread to make flat patties.
Drain on paper towel when cooked.
Season the fish and while the fritters are cooking either grill or pan fry the fish.
Serve the fish on the patties layered with rocket and sour cream.
AND MORE:
You can use lettuce instead of rocket.
To make a quick salad for dinner tomorrow finely slice or grate the leftover vegetables. Make a dressing by mixing vinaigrette with the coriander, ½ tsp mustard and 1 tsp honey.
Season.