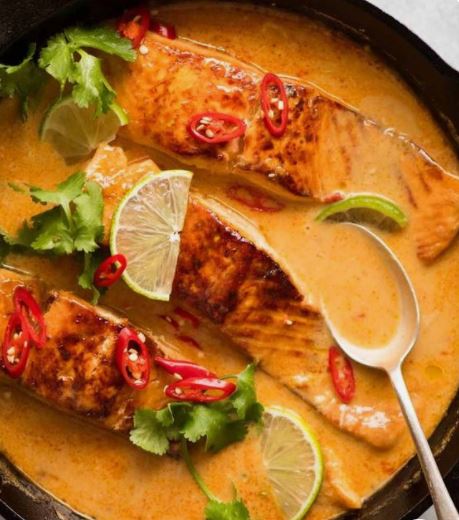 Poached Salmon in a coconut lime sauce that tastes like a Thai coconut curry – except its super quick and easy to make! Even though the salmon is poached, it's well worth searing lightly to brown for the extra flavour on both the salmon and in the sauce. Check out the original recipe here.
INGREDIENTS:
4 salmon fillets , 180g each preferably skinless
Salt and pepper
2 tbsp oil , separated
2 garlic cloves , finely grated
1 lemongrass , peeled, finely grated
2 tsp ginger , finely grated
1 tbsp brown sugar
1 tsp chilli garlic paste or other chilli paste, adjust to taste
400g coconut milk
1 tbsp fish sauce (or soy sauce)
2 tsp lime zest (1 lime)
Lime juice , to taste
Serving suggestions:
Fresh coriander/cilantro leaves , finely chopped (recommended)
Finely sliced large red chillies (optional)
Vermicelli noodles OR
Steamed jasmine rice
INSTRUCTIONS:
First step is to sprinkle both sides of salmon with salt and pepper.
Then heat 1 tbsp oil in a non-stick pan or well-seasoned skillet over medium high heat. Add salmon, skin side up, and sear for just 1 1/2 minutes until golden. Turn salmon and cook the other side just for 1 minute, then remove onto a plate (should still be raw inside).
Then turn heat down to medium low and allow skillet to cool.
Once cooled heat remaining 1 tbsp oil then add garlic, ginger and lemongrass. Cook until garlic is light golden, then add sugar and cook for 20 seconds until it becomes a caramel, then stir in chilli paste.
Then add coconut milk and stir, scraping the bottom of the skillet to dissolve any bits stuck on the base into the sauce.
Next stir in fish sauce, increase heat to medium. Simmer for 2 minutes.
Then place salmon into the sauce and lower heat, simmer gently for 4 minutes, or until just cooked.
Once cooked remove salmon, stir in lime zest and juice to taste. Adjust salt to taste with fish sauce.
Finally serve salmon over noodles or rice. Spoon over sauce, garnish with coriander and chili if using and enjoy!