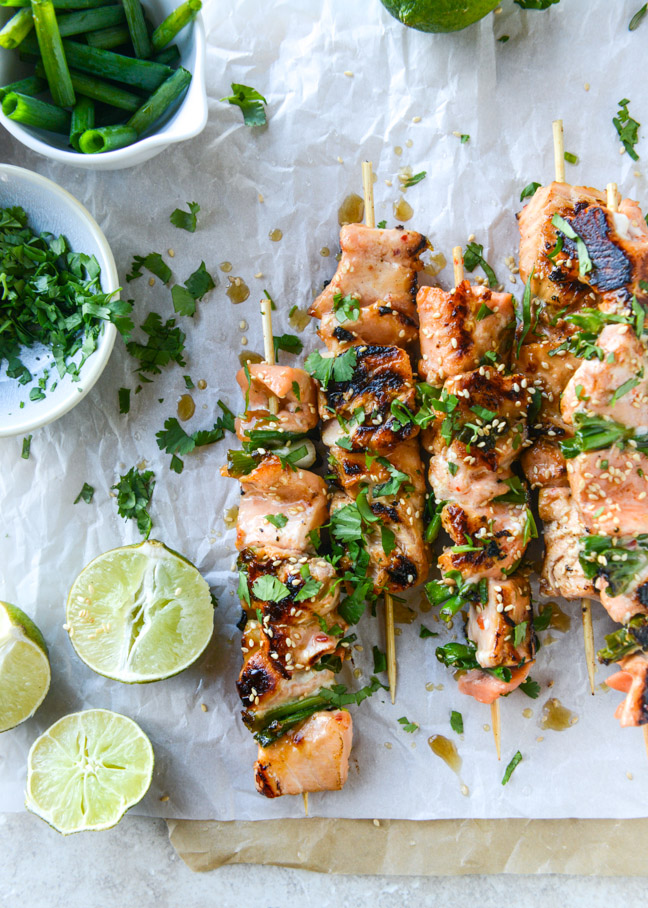 INGREDIENTS:
4 salmon fillets, cut into chunks or any other firm fish, such as hapuka, trevally or kingfish 
a pinch of salt and pepper
2 capiscums, sliced into 1 to 2-inch pieces
1 cup sweet chilli sauce, plus extra for topping
1 tablespoon coconut oil
2 tablespoons fresh chopped cilantro
1 tablespoon toasted sesame oil
1 tablespoon toasted sesame seeds
2 limes, sliced
METHOD:
Cut salmon fillets in chucks then place the salmon in a bowl and season with salt and pepper, then cover with the sweet chilli sauce, tossing well to coat.
Take the chunks and skewer them with about 3 or 4 pieces of green onion in between (4 to 5 salmon chunks per skewer), beginning and ending with the salmon. You can toss with a little more chilli sauce if desired or add extra vegetables.
Heat a large skillet or grill pan over medium-high heat and add the coconut oil. Place the skewers in the skillet and cook until opaque and golden on all sides, about 1 to 2 minutes per side.
Remove the salmon and place it on a plate. Drizzle it with the toasted sesame oil and cover with the cilantro and sesame seeds. Finish with a spritz of lime. Serve with lime wedges and extra chilli sauce or on rice. Serves 4.