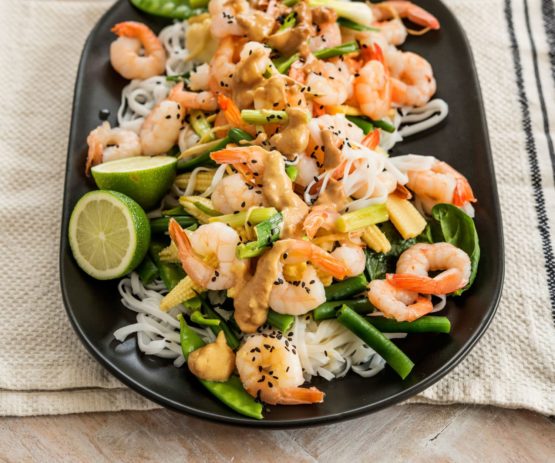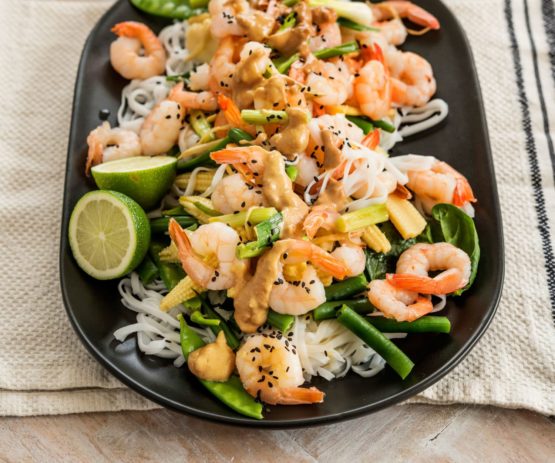 Packed with veges with a good dose of protein from the prawns, this feelgood, easy meal is perfect for lunch or dinner. The creamy peanut dressing is also a stand out – it's zinging with flavour from the lime juice and tamarind paste. Check out the original recipe by Nadia Lim here. Serves 4.
INGREDIENTS:
rice stick noodles 150g
sesame oil 2 tablespoons
garlic 1 clove, finely sliced
ginger 2.5cm piece, peeled and finely sliced
spring onions 2, cut into bite-sized pieces
baby sweetcorn 425g can, drained
snow peas 100g, blanched and sliced
green beans 100g, blanched and sliced
salad greens or baby spinach 60g
Dressing
crunchy peanut butter ¼ cup
tamarind paste 1 tablespoon
caster sugar 1 teaspoon
lime 1, juice and zest
water ¼ cup
oil 2 tablespoons
To serve
2 lime halves, black sesame seeds and roughly chopped peanuts
METHOD:
Cook the rice stick noodles in plenty of boiling water for about 5-6 minutes. When al dente, drain and refresh under cold water.
Heat the sesame oil and sauté the garlic, ginger, spring onions and prawns until tender and fragrant.
Arrange noodles on a platter with snow peas, sweetcorn, beans and salad greens.
To make the dressing, combine all the ingredients and mix well.
Top salad with the warm ginger prawns and drizzle with the peanut dressing. Squeeze over some lime juice, garnish with black sesame seeds and chopped peanuts, and serve.