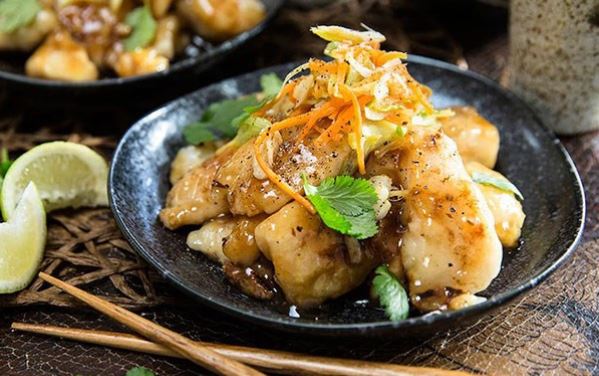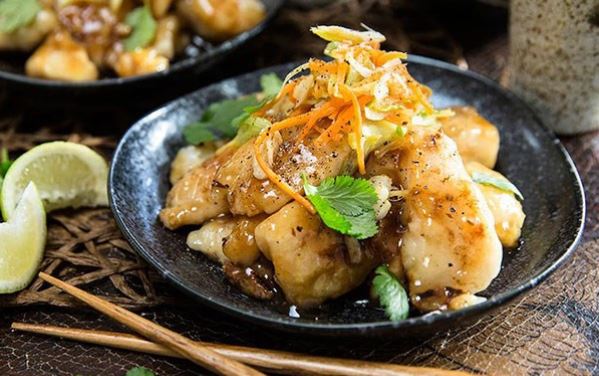 You will find many of the ingredients in local Asian stores. Sugar and vinegar, with the help of garlic and ginger, gives saucy sweet and sour fish a tasty punch. Serve it with a slightly chewy brown rice, which complements the softness of the fish. Check out the original recipe here.
INGREDIENTS
¼ cup Sugar
1 Tbsp Soy sauce
1 Tbsp Oyster sauce
2 Tbsp White vinegar
½ tsp Salt
2 tsp Potato flour or Cornflour, and extra to dust
½ cup   Stock, or water
2 Tbsp  Oil
500g White fish, cut into 2cm chunks
2 cloves Garlic, sliced
1 tsp Grated ginger
Carrot, sliced into fine sticks
Spring onion, sliced
METHOD:
In a small jug combine sugar, soy, oyster sauce, vinegar, salt, potato flour and stock.
Heat oil in a large frying pan (or cook in two batches in a smaller one). Toss fish generously in potato flour and fry for 4 minutes each side or until cooked. Don't be tempted to turn over too early or it will stick. Remove fish.
Add sauce to pan, stirring carefully until thickened. Return fish and serve straight on to a serving plate.
Toss garlic, ginger, carrot and spring onion in a little oil in a small frying pan for 2 minutes until slightly softened. Place on top of the fish.
Serve hot with rice.