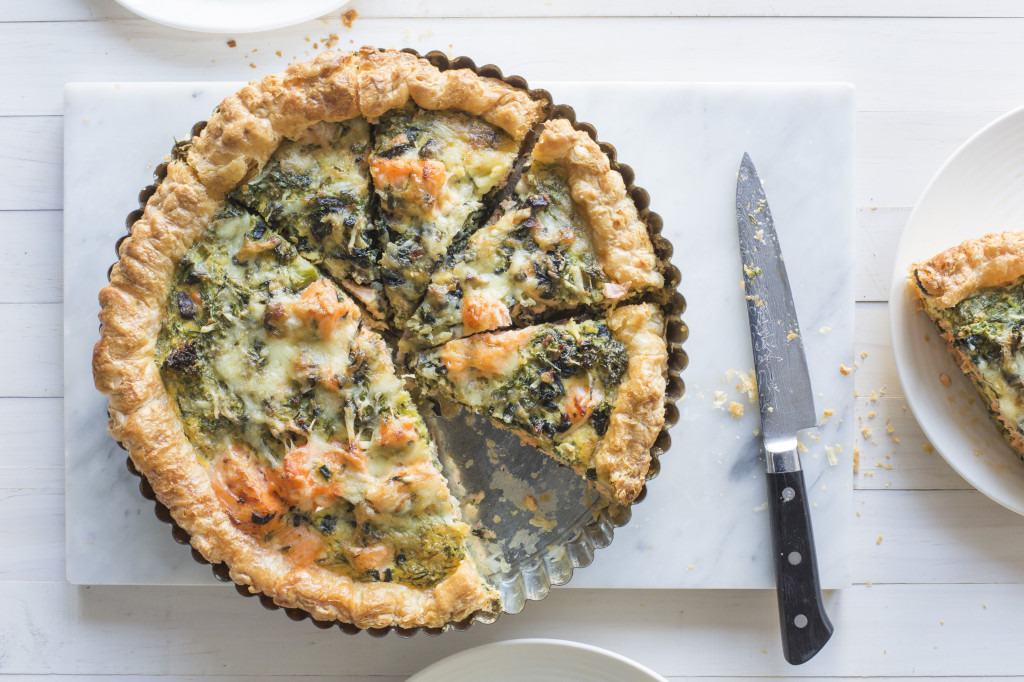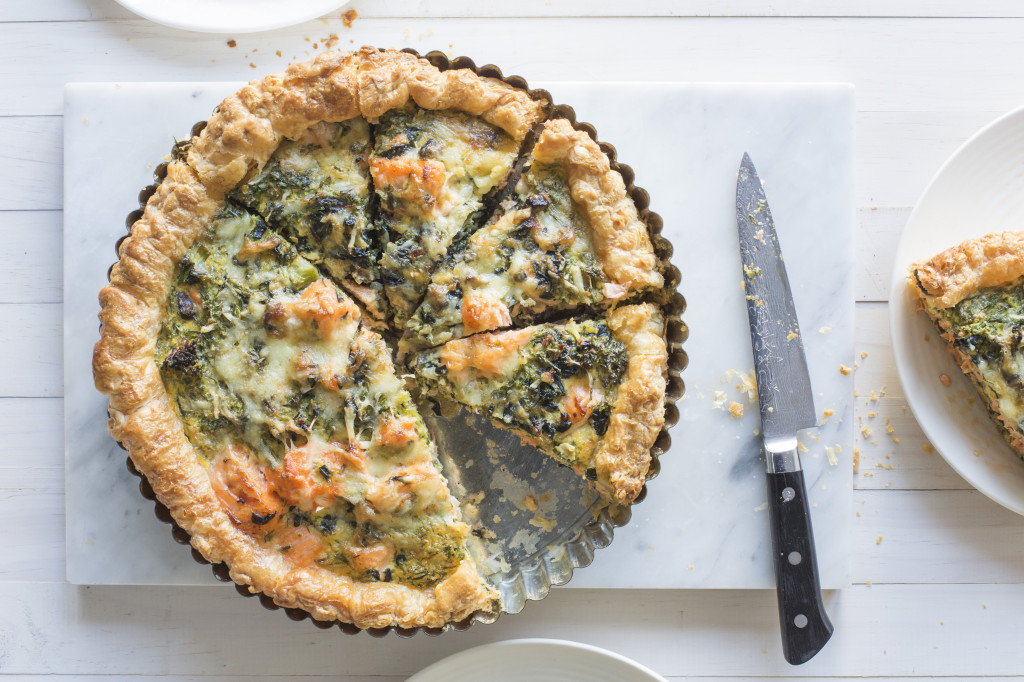 This quiche recipe is delicious and a really nice way to make a couple of salmon fillets stretch out for a family and it's loaded with goodness! Check out the original recipe by Chelsea Winter here.
Serves 6
Prep time – 15 minutes
Cooking time – 1 hour 20 minutes
INGREDIENTS:
400g salmon fillets fresh or smoked, bones and skin removed, chopped into chunks
1 x 400g block flaky puff pastry (or 3-4 sheets)
1 large onion, chopped
2-3 cups finely chopped veges (spinach, broccoli, kale, cabbage, mushrooms, capsicum)
2 cloves garlic, crushed
1 tbsp lemon juice
5 large free-range eggs
1 cup cream
¾ cup grated cheddar cheese
½ red onion, sliced
1/4 cup fresh chives or parsely, finely chopped
2 tbsp chopped fresh dill (or 1 tsp dried)
Zest of 1 lemon
Pinch of chilli flakes (optional)
METHOD:
Defrost the pastry so it's at room temperature. Prep a pie dish around 26cm diameter – if yours is bigger, just add another egg and more veg. You'll have enough pastry.
Preheat the oven to 200c fan bake. Roll out the pastry on a clean, floured bench top so it's larger than the size of your tin/dish. Line the tin with the pastry, trimming to leave a few centimetres sticking up over the edges to counteract shrinkage. Prick the bottom with a fork and cut a circle of baking paper to fit up the sides of the dish and fill with baking beads/dry chickpeas/rice/lentils.
Bake near the bottom of the oven for 15 minutes so the sides go golden brown. Remove the baking paper and baking beads and cook for another few minutes to dry out the bottom. (You can brush the pastry base all over with beaten egg before it goes back in to help seal it, which helps it stop going soggy).
Remove from the oven, set aside and reduce the temperature to 170c.
Heat 1 tbsp olive oil in a pan over a medium heat and add the onion. Cook, stirring, for 5 minutes until soft. Add the veges, garlic and lemon juice, and cook for another 10 minutes until the veges are wilted and most of the liquid has evaporated. Season with salt and pepper.
Whisk the eggs in a bowl with the cream, ½ tsp salt and ½ tsp white or black pepper.
To the cooked veges, add half the cheese, the salmon, red onion, chives, dill, lemon zest and chilli. Spoon into the pastry case. Pour the egg mixture carefully over top so all the gaps are filled. Sprinkle with the remaining cheese (at this point a sprinkle of freshly grated Parmesan or some feta can be nice, too).
Bake just below the centre of the oven for 45 minutes to 1 hour, or until the egg is set and the base is cooked through.
Cool for 10 minutes in the tin, then slice and serve a fresh green salad – with relish and a few lemon wedges if you like.