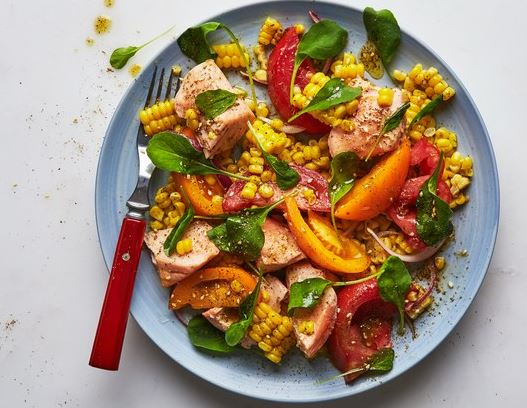 With the weather warming up for summer this simple salad recipe is perfect! It's a refreshing, time-saving dinner, in which the salmon is poached in the same thyme- and garlic-infused water that the corn is boiled in. Check out the original recipe here. 
INGREDIENTS:
Kosher salt
2 lemons
3 garlic cloves, crushed
3 bay leaves, preferably fresh
1/2 cup extra-virgin olive oil
3 sprigs thyme
4 teaspoons za'atar, plus more for serving
5 ears corn on the cob, husked
4 skinless salmon fillets
2 medium heirloom tomatoes, cut into wedges
1/2 red onion, thinly sliced
Baby arugula or other baby greens (for serving)
METHOD:
Generously salt a large pot of water. Thinly slice half of 1 lemon and add to water along with garlic, thyme, and bay leaves. Bring to a boil, then let boil at least 3 minutes and up to 10 to infuse water.
Meanwhile, whisk oil, 3 Tbsp. lemon juice, 4 tsp. za'atar, and 1 tsp. salt in a small bowl.
Add corn to boiling water and cook until bright yellow and tender, about 6 minutes. Transfer to a plate.
Reduce heat to low, gently add salmon, and poach just until cooked through, about 5 minutes. Transfer to a cutting board with a slotted spoon or spatula and flake into chunks.
Meanwhile, slice corn off cob into a large bowl. Add tomatoes and onion, then toss with 1/2 cup dressing.
Add flaked salmon to corn mixture and toss very gently just to coat with dressing. Transfer to a serving platter or divide among plates. Top with arugula, then drizzle with remaining dressing. Serve with additional za'atar alongside.