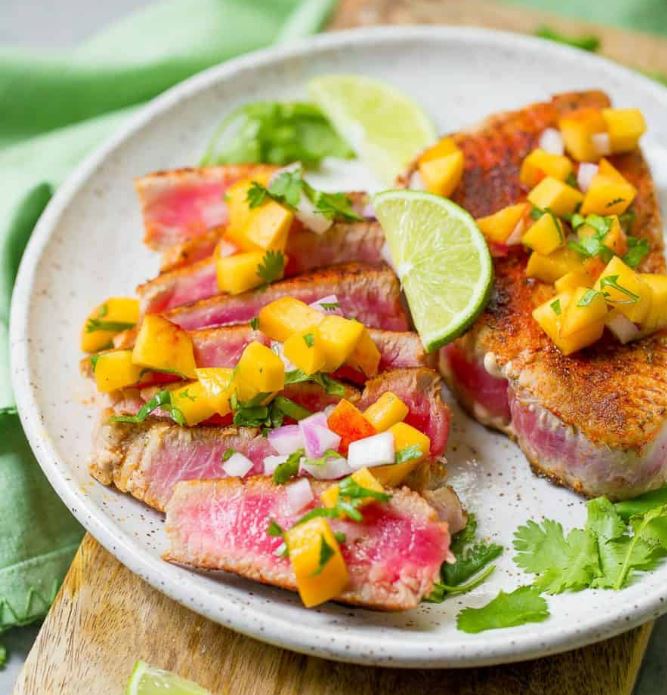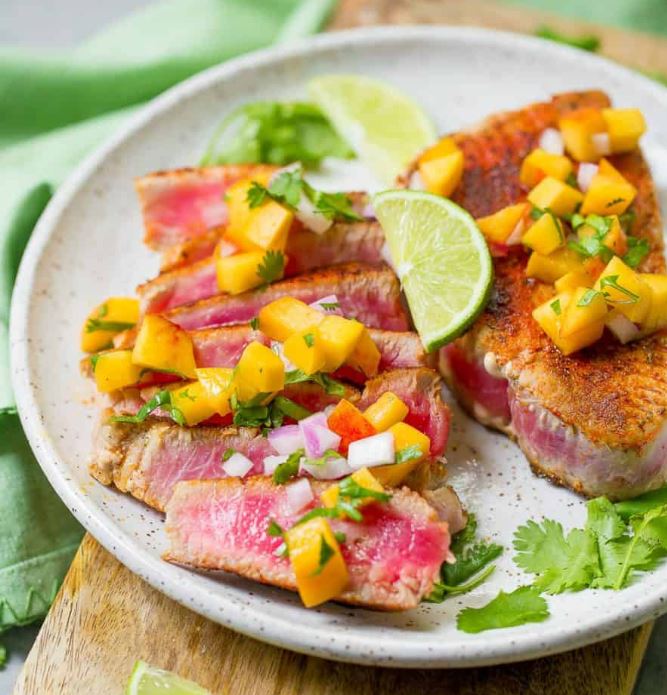 This perfectly seared tuna is raw on the inside, and tastes so delicious and fresh for a spring or summer meal! Check out the original recipe here. 
Ingredients
 1 tsp smoked paprika
 1/2 tsp garlic powder
 half tsp onion powder
 1/2 tsp oregano
 1/2 tsp sea salt
 1/4 tsp black pepper
 500g tuna fillets
 2 tbsp avocado oil or olive oil
 1 cup diced peaches
 2 tbsp diced red onion
 1/2 tsp cayenne pepper
 2 tbsp chopped fresh cilantro
 1 lime juiced
 salt to taste
Instructions
Heat a skillet to medium high heat, or heat a grill.
Mix together smoked paprika, garlic powder, onion powder, cayenne pepper, oregano, salt, and black pepper in a small bowl.
Rub both sides of your tuna fillets. Once skillet or grill is very hot, add the oil to the pan (if using grill no need to use oil). Sear for only 1-2 minutes per side, so the top is blackened and the middle is still pink and rare.
Now make your salsa. Stir together peaches, red onion, cilantro, and juice of half a lime.
Slice your tuna, and spoon salsa on top. Squeeze remaining lime juice over tuna, and salt to taste.