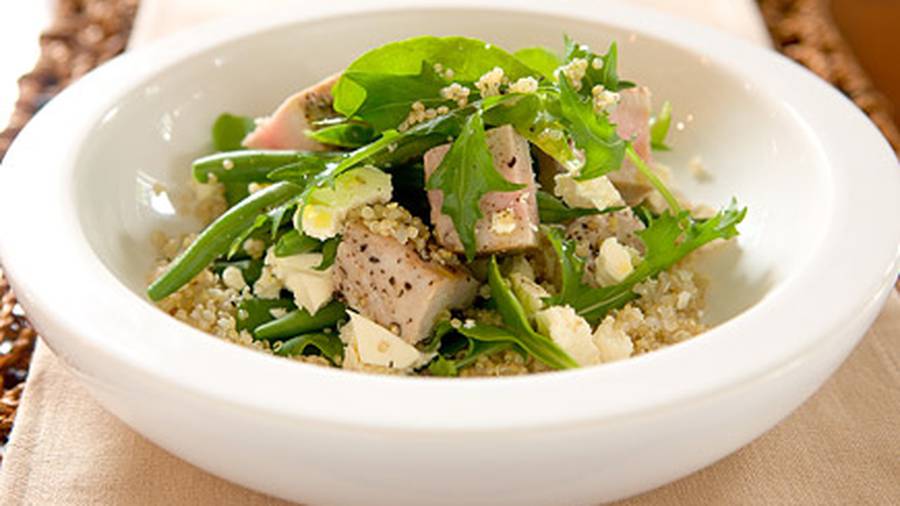 The warm water has meant the Albacore Tuna are now running and this recipe by Amanda Laird is a great way to showcase the Tuna. Check out the original post here.
Crumbly feta and succulent fresh tuna steaks make this the perfect meal for a delicious last-minute Sunday lunch.
Serves 4
Ingredients:
1 cup quinoa
1 bay leaf
1 tsp salt
20 green beans
2 x 200g fresh tuna steaks
Granulated kelp
2 Tbs olive oil
4 handfuls salad leaves
120g feta (optional)
Juice of one lemon
Flaky sea salt and freshly ground black pepper
Method:
1. Put the quinoa in a saucepan, cover with water, add salt and bay leaf then bring to the boil. Boil for approximately 10 minutes or until tender, drain.
2.Trim the beans and cover with boiling water, leave for 5 minutes then drain and cool.
3.Sprinkle the tuna with kelp. Heat a pan; add the olive oil then the tuna. Let cook on one side for 5 minutes then turn and continue cooking for another 3 minutes. Remove from the pan let rest, and then cut into small pieces.
4.Arrange the salad leaves on a platter or in individual bowls. Scatter over the crumbled feta, add the quinoa, beans and pieces of tuna. Squeeze over a lemon, then add sea salt with a grind of black pepper.