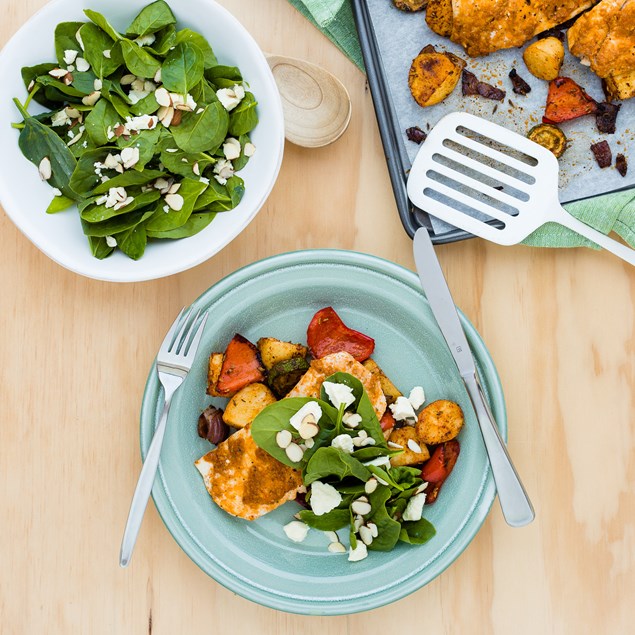 This Italian Baked Fish recipe by Nadia Lim is an easy but healthy option for the family to enjoy. Instead of using Spinach for the salad why not try our delicious Roebuck Farms lettuce mix which is locally grown here in Taranaki. Check out the original post here.
Serves 2-3
Ready in: 40 min
Prep time: 15 min
Cook time: 30 min
Italian-baked fish
800g baby potatoes, cut into quarters or halves until roughly the same size
1 red onion, diced 2cm
1 capsicum, core and seeds removed and roughly chopped
1 courgette, sliced into 1cm-thick rounds
2 tablespoons fennel spice blend
600g skinless, boneless, white fish fillets
100g tomato pesto (store-bought)
Spinach and feta salad 
120-150g baby spinach leaves
100g feta cheese, crumbled
¼ cup sliced almonds
Fennel spice blend 
1 tablespoon fennel seeds
1 tablespoon paprika
½ tablespoon tomato powder
To make:
PREHEAT oven to 220C. Line an oven tray with baking paper.
Toss potatoes, red onion, capsicum and courgette on prepared tray with fennel spice blend and a drizzle of oil. Season with salt and pepper and bake for 25-30 minutes, until tender. Turn once during cooking.
Pat fish dry with paper towels and remove any remaining scales or bones. Cut any larger fillets in half. Place fish fillets onto a plate or clean board in a single.
Evenly spread tomato pesto over fish and season with salt and pepper.
When vegetables have 6 minutes' cook time remaining, remove tray from oven and lay fish over vegetables. Return tray to oven and cook for a further 6-7 minutes, until potatoes are tender and fish is just cooked through.
While fish is cooking, roughly chop spinach and toss with feta, almonds and a drizzle of olive oil in a large bowl. Season to taste with salt and pepper.
TO SERVE, spoon Italian-baked fish and vegetables onto plates and serve spinach and feta salad on the side.