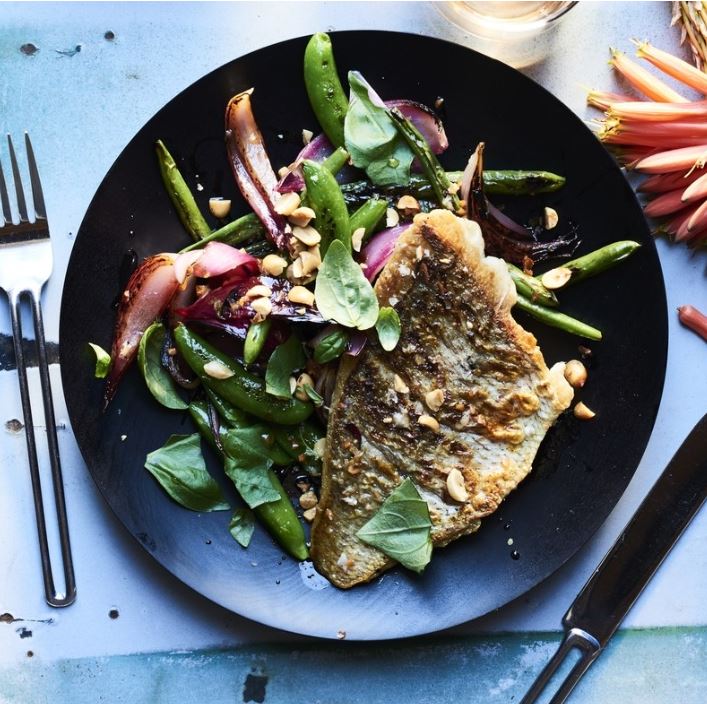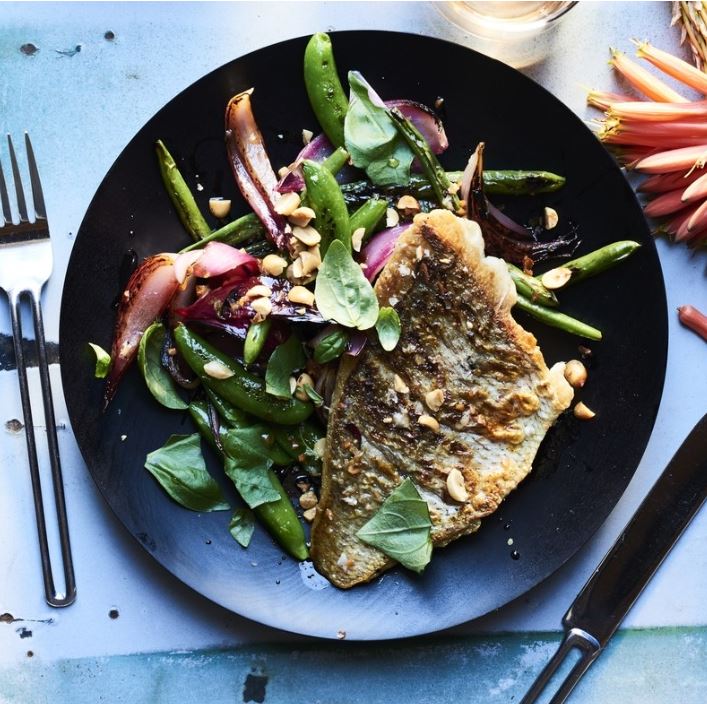 If there is one time we'd want to cheat and cook something indoors, it would be to make a pot of rice to soak up the extra dressing in this snapper recipe. This recipe is a fresh and healthy meal that is sure to impress! Check out the original here.
INGREDIENTS:
1 habanero chile, seeds removed, finely chopped

1 small garlic clove, finely chopped

½ cup unseasoned rice vinegar

4½ teaspoons light brown sugar

Kosher salt

2 small red onions, cut through root ends into 8 wedges

Two cups sugar snap peas, strings removed

2 tablespoons olive oil, divided, plus more for drizzling

1 pound green beans, trimmed

1 cup torn basil leaves

¼ cup crushed salted, dry-roasted peanuts
METHOD:
Prepare a grill for medium-high heat. Put a large cast-iron skillet on grill to heat.

Meanwhile, stir chile, garlic, vinegar, and brown sugar in a small bowl until sugar is dissolved; season chile vinegar with salt. Set aside. Toss onions, sugar snap peas, and 1½ tsp. oil in a large bowl; season with salt.

As soon as skillet is hot, add vegetables and cook, stirring occasionally, until blistered and crisp-tender, 6–8 minutes for onions and about 4 minutes for sugar snap peas. Transfer to a platter.

Toss green beans and 1½ tsp. oil in another large bowl and cook directly on grill grate on one side until blistered, lightly charred, and crisp-tender, about 3 minutes. Transfer to platter with onions and sugar snap peas and toss to coat; drizzle reserved chile vinegar over.

Wipe out skillet with paper towels. Add 1 Tbsp. oil and set back on grill. Season snapper all over with salt and cook, skin side down, in skillet until skin is golden brown and crisp, about 4 minutes. Turn and cook just until cooked through, about 2 minutes.