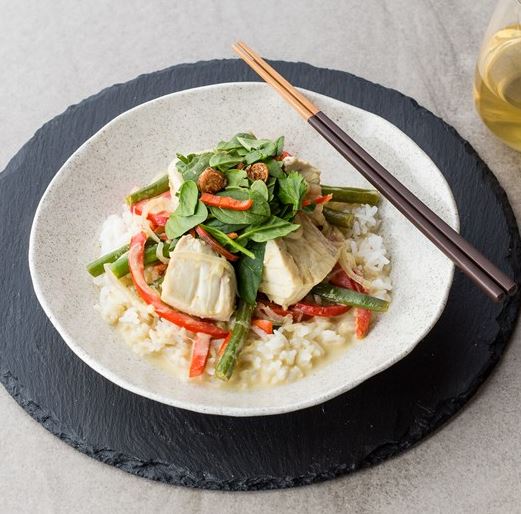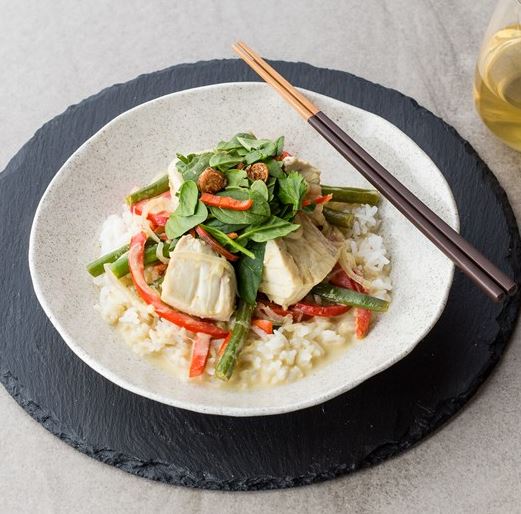 With cooler weather among us this recipe for fish curry by Nadia Lim is sure to warm you up! Check out the original recipe here.
INGREDIENTS 
JASMINE RICE
1 cup jasmine rice
1 1/2 cups water
Pinch of salt
THAI GREEN FISH CURRY
1 shallot, thinly sliced
1 clove garlic, roughly chopped
Teaspoon finely grated ginger
2 tablespoons Thai green curry paste
400ml coconut milk
3/4 cup water
2 tablespoons fish sauce
1 tablespoon brown sugar
Juice of 1/2 lemon
100g green beans, cut in half
1 capsicum, thinly sliced
THAI SALAD
1 handful baby spinach leaves
1 chilli
3 tablespoons coriander leaves and stalks
10g crispy shallots
Juice of 1/2 lemon
METHOD
Combine rice, water and a pinch of salt in a pot and bring to the boil. As soon as it boils, cover with a tight-fitting lid and reduce to lowest heat to cook for 12 minutes. Turn off heat and leave to steam, still covered, for a further 8 minutes. Do not lift lid during cooking.
Heat a drizzle of oil in a large pot on medium-high heat. Cook shallot for 3– 4 minutes until tender. Add garlic and ginger and cook for a further 1 minute followed by adding the curry paste and cook a further 1 minute until fragrant.
Add coconut milk, water, fish sauce, sugar, lemon juice and bring to a simmer.
Reduce heat to medium, add beans and capsicum and simmer for about 5 minutes. Pat fish dry with paper towels, remove any remaining scales or bones and cut into 5cm pieces. Add fish to curry and cook a further 2 minutes and remove from heat. Season to taste with salt and pepper.
Roughly chop spinach leaves and remove seeds from chilli then thinly slice. Finely chop coriander stalks and add to a bowl with coriander leaves, chilli and crispy shallots. Add a drizzle of oil, lemon juice and toss lightly.
Spoon ¾ cup cooked rice onto each plate or bowl. Ladle over Thai green fish curry and top with Thai salad.