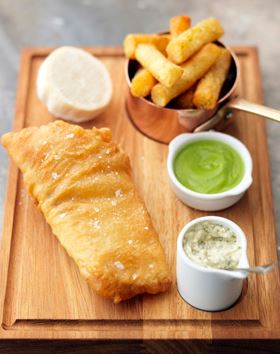 Sometimes the simple classics are the best. Take your time to get this right and you will have a world-class dish! Check out the original recipe here.
Ingredients
4 fillets fresh fish, 180g each
sea salt to taste
lemon wedges to serve
For the chips
4 large potatoes
Vegetable oil for deep-frying
For the tartare sauce
3 egg yolks
2 tbsp parsley leaves, finely chopped
1 tbsp Dijon mustard
4 tsp white wine vinegar
500ml vegetable oil
2 hard-boiled eggs, shelled and grated
1 finely chopped shallot
2 gherkins, finely chopped
2 tbsp capers in brine, drained and finely chopped
For the beer batter
2 egg whites
240ml beer or sparkling water
350g self-raising white flour
large pinch bicarbonate of soda
For the pea purée
25g butter
1 shallot, finely chopped
½ tsp sea salt flakes
100ml chicken stock
1 tbsp, mint leaves finely chopped
350g frozen peas, defrosted
4 tsp caster sugar
Method
Peel the potatoes and boil for 5 minutes and remove them. Allow to dry and cut in rectangles. Fry the chips in a deep fryer at 180C for 9 minutes and drain.
For the tartare. Add egg yolks, Dijon mustard, white wine vinegar to a food process and blend until smooth. Add the oil until you have an emulsion, stir in the rest of the tartare ingredients and season. Keep it in the fridge until ready.
For the pea puree. Melt the butter in a pan and add the shallot. Season with sea salt and cook for 5 minutes. Add the chicken stock and mint and simmer. Add the sugar and peas and boil for 5 minutes until peas are cooked.
Strain the peas and add them and the shallots to a blender to liquify. Add 2 tablespoons of the cooking liquor to the blend and mix until you achieve the desired consistency.
For the batter. Mix the egg whites and beer or water together until fluffy. Add the flour and bicarbonate of soda and mix until smooth.
Refry the chips at 180C for another 5 minutes until golden. Drain again.
Add the fish to the batter mix and drip dry. Add the fish to the fryer still at 180C and cook for 3-5 minutes until golden brown. Allow to drain.
Serve with the chips, pea puree and tartare sauce. Enjoy!