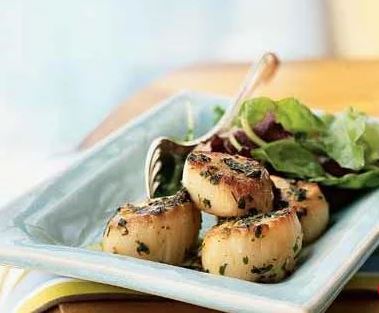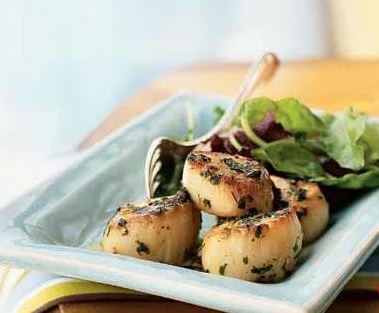 To kick off the start of scallop season this year we have a delicious quick and easy recipe by Jim Peterson. It is a simple butter sauce seasoned with salt, pepper, parsley, and garlic that lets the delicate flavour of these sauteed scallops truly shine. Check out the original here. 
Ingredients:
3 dozen scallops
1/4 teaspoon salt
1/4 teaspoon freshly ground black pepper
1 1/2 tablespoons olive oil
2 tablespoons butter
1/4 cup chopped fresh flat-leaf parsley
2 garlic cloves, minced
Method:
Step 1: Sprinkle scallops with salt and pepper. Heat oil in a large non-stick skillet over medium-high heat. Add 8 scallops; sauté 2 1/2 minutes on each side or until browned. Set aside and keep warm. Repeat procedure with remaining 8 scallops. Wipe pan clean with a paper towel.
Step 2: Add butter to pan; reduce heat and cook until butter melts. Stir in parsley and garlic and cook 15 seconds. Return scallops to pan; toss to coat.
Chef's Notes:
The secret to perfectly browned scallops is patience. Peterson recommends cooking in two batches. Heat the oil until it ripples in the pan. Add scallops, a few at a time, and wait for them to sizzle before adding more. If you add too many at once, the pan will lose heat and its ability to brown them all.