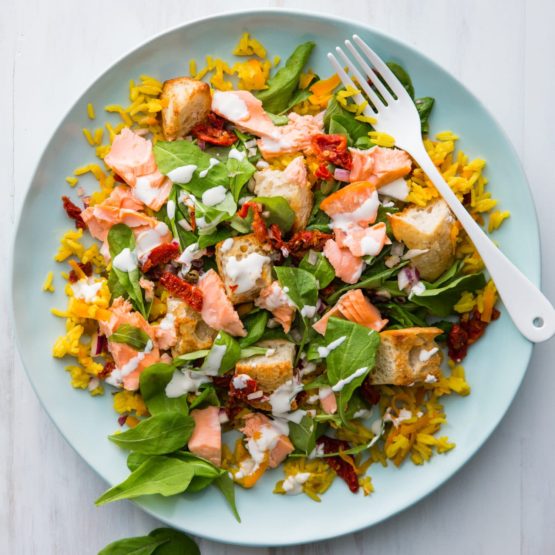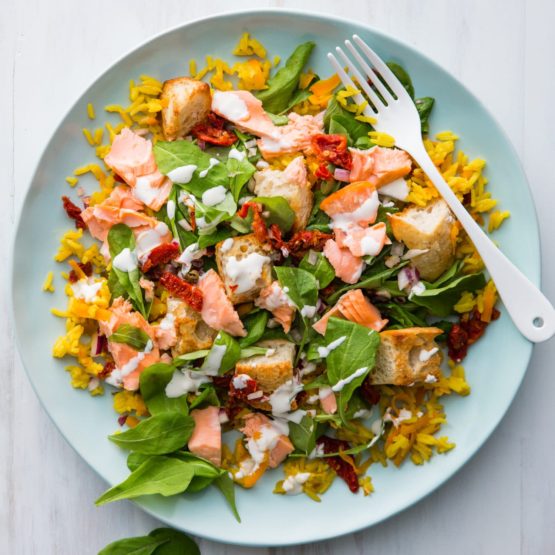 For a quick and easy meal check out this delicious recipe by Nadia Lim for Flaked Salmon Salad. It is sure to impress with its vibrant and beautiful colour and flavour from the turmeric and the fresh salmon. Check out the original recipe here.
INGREDIENTS:
Baked rice
jasmine rice 1½ cups
boiling water 2¼ cups
carrot 1, grated
red onion ¼, finely diced
turmeric 1 teaspoon
salt 1 teaspoon
lemon zest of ½
Flaked salmon salad
ciabatta roll 1, diced 2cm
red onion ¼, thinly sliced
semi-dried tomatoes ¼ cup, roughly chopped
mesclun ½ bag
vinegar 2 teaspoons (e.g. red wine, white wine, balsamic)
Lemon mayonnaise
mayonnaise ¼ cup
lemon  juice of ½
METHOD:
Preheat oven to 200°C. Line an oven tray with baking paper.
Combine all baked rice ingredients in deep, oven-proof dish. Mix well and cover dish with foil, making sure to seal the edges well. Bake for 25 minutes, then remove from oven and set aside.
While rice is cooking, pat salmon dry and remove any remaining scales or pin bones. Season salmon and place, skin-side-up, to one side of prepared tray. Add diced bread to other side of tray, drizzle with olive oil and season. Bake (on rack above rice) for about 12 minutes, until salmon is cooked through.
While rice and salmon are baking, add remaining red onion and semi-fried tomato to a large bowl and set aside.
When salmon has finished cooking, set aside to rest for at least 5 minutes. Carefully peel skin off salmon then break into large chunks using a fork. Add to bowl with onion and tomatoes. In a small bowl, combine mayonnaise and lemon juice and set aside.
Fluff up rice with a fork. Add mesclun, baked ciabatta and vinegar to bowl with salmon and gently toss to combine. Season to taste.
To serve, spoon baked rice onto plates and top with flaked salmon salad. Drizzle with lemon mayonnaise.