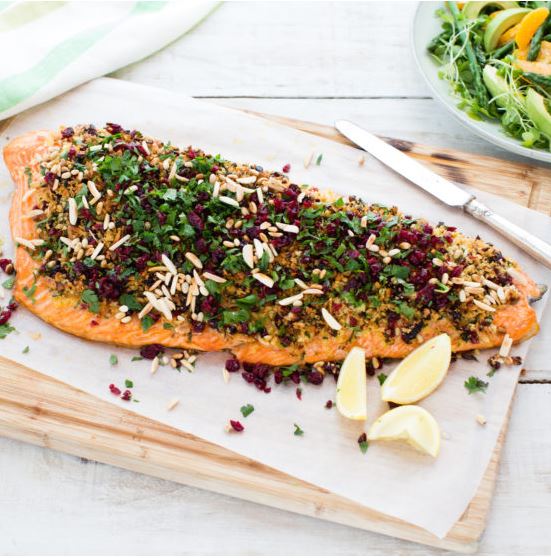 For many people, swapping meat for fish on Good Friday is part of the Easter tradition. This recipe for salmon is the perfect center piece for a family meal and it makes entertaining easy as guests are able to help themselves. Check out the original recipe by Nadia Lim here.
INGREDIENTS:
panko breadcrumbs
 1 cup
dried cranberries ½ cup chopped + 2-3 tablespoons extra for garnish
sliced almonds ¼ cup
pine nuts ¼ cup
flat-leaf parsley 1/3 cup chopped + extra for garnish
thyme leaves 2-3 tablespoons finely chopped
lemon Finely grated zest of 1
orange Finely grated zest of 1
melted butter 1/3 cup + 2-3 tablespoons extra for drizzling
fresh salmon 1 whole side (about 1.5kg)
lemon 1, cut into wedges, to serve
METHOD:
Preheat oven to 200degC. Line a large baking or oven tray with baking paper.
In a medium bowl, mix panko breadcrumbs, cranberries, almonds, pine nuts, parsley, thyme and lemon and orange zest together. Stir in melted butter and season with salt and pepper.
Pat salmon dry with paper towels and remove any remaining 
pin bones. Place salmon on prepared tray, skin-side-down. Season well with salt and sprinkle crust mixture evenly on top, pressing down gently to adhere. Drizzle over a little more melted butter. Place on a shelf in the middle of the oven, and bake for about 20-25 minutes or until salmon is just cooked through (it is best cooked medium) and crust is golden.
Garnish with more chopped cranberries and parsley for colour. Serve with lemon wedges to squeeze over, baby potatoes and salad.