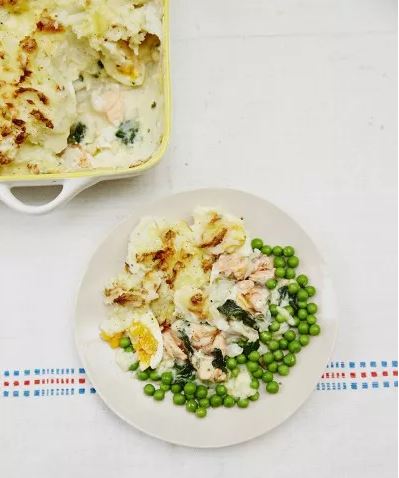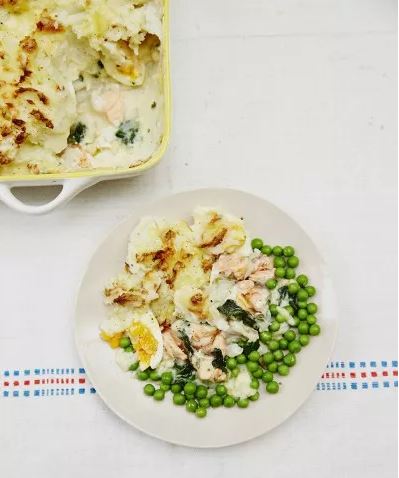 Fish pie is the perfect dish to have on these cooler nights and makes the best lunch for the next day. This recipe is fuss-free and something the whole family will enjoy!  Check out the original recipe by Jamie Oliver here. 
Ingredients
1.5 kg potatoes
4 large free-range eggs
50g unsalted butter
50g plain flour
2 fresh bay leaves
350ml quality fish stock
350ml semi-skimmed milk , plus an extra splash
50g Cheddar cheese
½ a lemon
1 heaped teaspoon English mustard
a few sprigs of fresh flat-leaf parsley
500g boneless white fish
200g boneless smoked fish
200g baby spinach
extra virgin olive oil
Method
Preheat the oven to 200ºC
Peel the potatoes and cut into chunks, then boil for around 15 minutes, or until tender. Add the eggs for the last 8 minutes.
Meanwhile, make the sauce. Melt the butter on a low heat and stir in the flour. Add the bay, then bit by bit, add the stock and the milk, stirring after every addition until you have a smooth, silky sauce. Bring to the boil, then reduce to a simmer and cook for 10 minutes, or until thickened.
Stir in the mustard, grate in half the cheese, then squeeze in the lemon juice. Finely chop and stir in the parsley, then keep stirring until the cheese is melted. Season with a little black pepper, then remove from the heat.
Get yourself a 25cm x 30cm baking dish. Slice the fresh fish fillets into 2.5cm chunks and spread them evenly over the base of the dish.
Wilt and add the spinach, then peel, quarter and add the eggs. Remove the bay leaves, then pour over the white sauce and allow to cool slightly.
Drain the potatoes well and mash with a little extra butter and a splash of milk. Spoon the potatoes over the pie and scuff up the surface with a fork.
Grate the remaining Cheddar over the top and bake in the oven for 45 minutes, or until the fish is cooked through, the sauce is bubbling up at the sides and the top is golden.
Delicious served with lots of green veges.