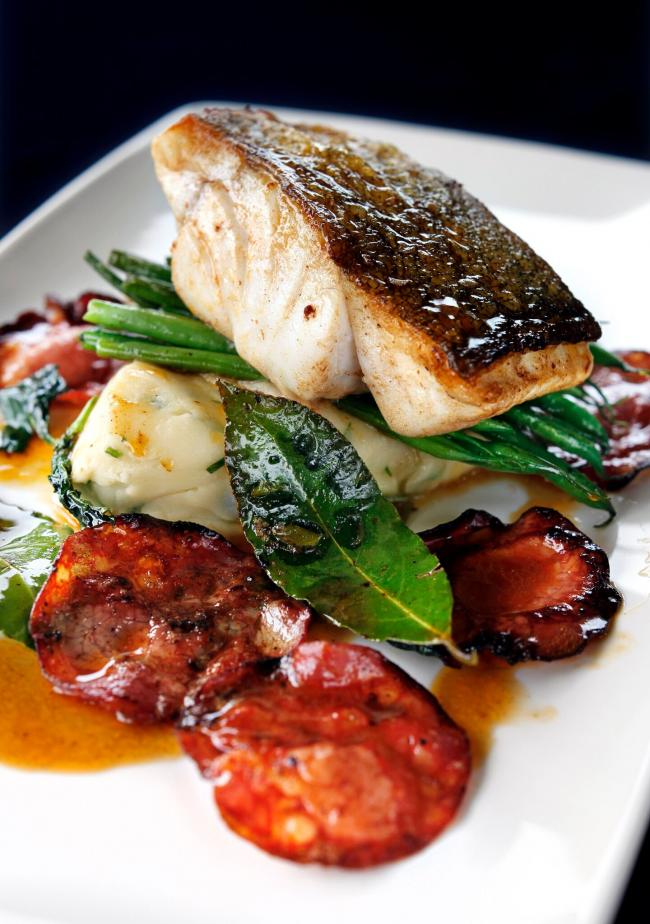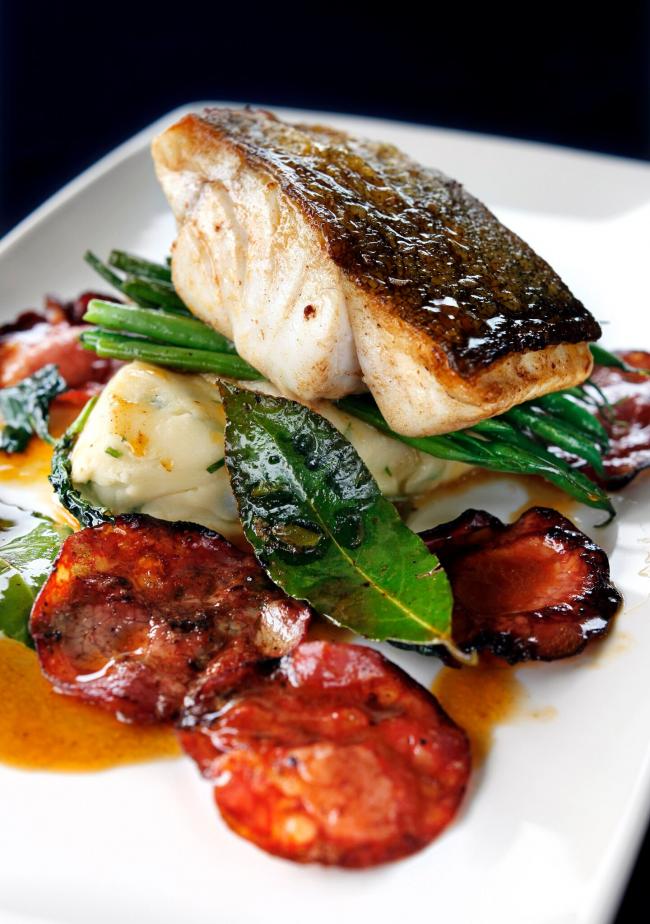 This recipe is by NICK NAIRN who is one of Scotland's best-loved chefs, first discovering his love of food while travelling the world with the Merchant Navy. He now runs successful cook schools and campaigns for better quality food in schools. Check out the Herald Scotland webpage here.
Ingredients: Serves 4
4 x 160g fillets fresh white fish – John Dory is a good option for crispy skin
80g chorizo, sliced
4 bay leaves
3 tbsp olive oil
2 sprigs basil
700g mashed potato
50g unsalted butter
splash double cream
70g stoned black olives, chopped
1 tbsp chopped flat parsley
250g green beans, blanched
30g unsalted butter
Maldon salt
freshly milled black pepper
squeeze lemon juice
Method:
1.   Preheat the oven to 180C/350F/gas mark 4.
2.   Heat an ovenproof stainless steel frying pan and add the olive oil. Lightly season the fish and add to the pan, skin side down.
3.   Add the chorizo and bay leaves to the pan and cook quickly alongside the fish to allow the flavours of the chorizo to be released. When the fish skin is lightly coloured, turn the fillets over to colour the flesh side, then turn back to the skin side. Transfer the pan to the oven to finish cooking the fish. 5 minutes in the oven should be about right for the average fillet. The fish should be cooked so that the skin is crisp and the inside firm but not rubbery.
4.   While the fish is cooking, melt the butter in a medium saucepan and add the cream. Add the mashed potato to the pan with seasoning, and work the butter and cream into the potato as it heats up. Add the olives and parsley to the hot potato and mix.
5.   Add the basil leaves to the fish pan then transfer the fish, chorizo, bay and basil to a warm plate to rest. The fat in the frying pan will be a combination of olive oil and chorizo fat, flavoured by the fish. Tip two-thirds of this fat over the fish then add the well drained green beans to the hot pan. Return the pan to the heat and toss the beans into the hot oil for a minute to heat through and flavour them.
6.   Set a scoop of olive mash on 4 hot plates, then a portion of beans on each. Place a piece of fish onto the beans and sprinkle the cooked chorizo sausage and basil around. Spoon some of the cooking juices and oil over the fish and serve.