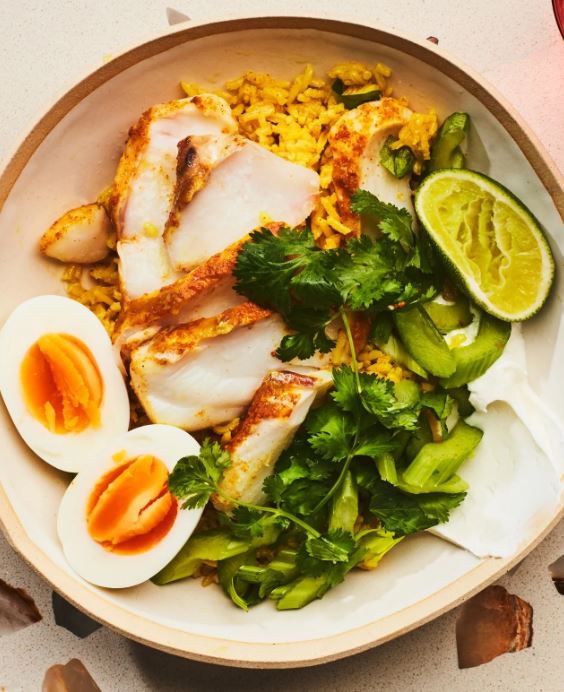 Kedgeree, a traditional Anglo-Indian recipe, often calls for smoked fish, but for a light weeknight meal, we prefer steaming fresh fish right on top of the rice! Check out the original recipe here. 
INGREDIENTS
2 large eggs

2 Tbsp extra-virgin olive oil

1 tsp. (or more) curry powder

2 garlic cloves, crushed

¾ cup basmati rice, rinsed, drained well

Kosher salt

¼ cup whole-milk Greek yogurt

1 talk celery, thinly sliced on a bias

½ cup cilantro leaves with tender stems

Lime wedges (for serving)
METHOD
Cook eggs in a small saucepan of simmering water for 9 minutes. Transfer to a medium bowl of very cold water and let cool until just warm, about 3 minutes. Peel; set aside.
Meanwhile, heat oil in a large saucepan over medium heat. Cook garlic, tossing occasionally, until lightly browned, 4–5 minutes. Add curry powder, followed by rice and 1¼ cups water. Bring to a simmer, cover, reduce heat to low, and cook until rice is nearly tender, about 15 minutes.
Season fish generously with salt and a pinch of curry powder, if desired. Lay fish over rice and continue to cook, covered, until rice is tender and fish flakes apart when poked with a finger or fork, 8–10 minutes.
Divide yogurt among bowls. Top with fish and rice. Halve eggs and arrange alongside. Top with celery and cilantro. Serve with a lime wedge alongside.