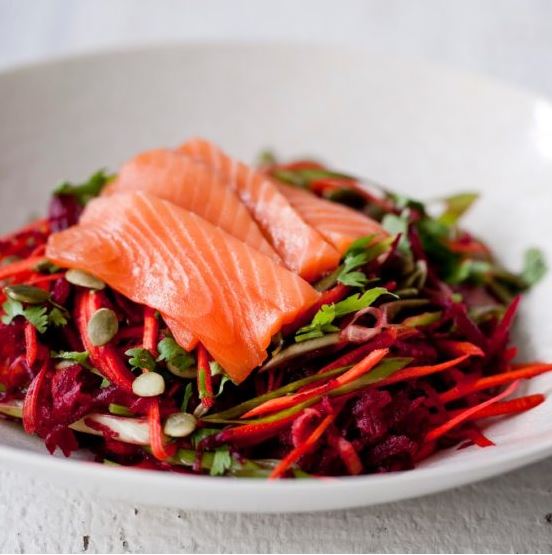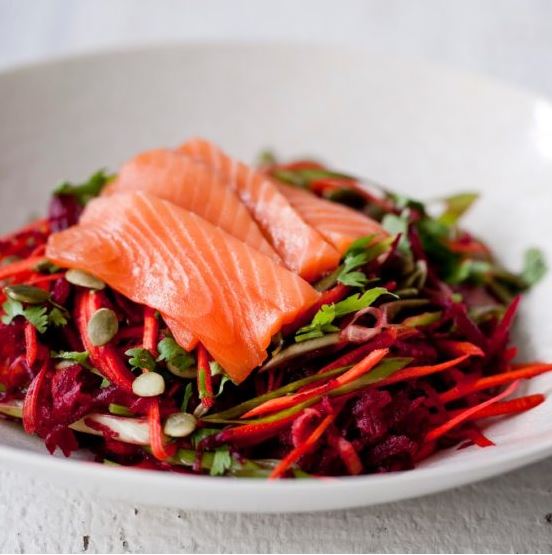 This great raw salad recipe by Nadia Lim makes the perfect lunch to take to work – it's so healthy and so tasty! This salad is packed full of the goodness of raw vegetables, high in antioxidants and fibre. You could make a big batch of this and leave it in the fridge to take a portion to work each day – just wait to add dressing right before you eat it. We sell High Country salmon which is super fresh – use it quickly for the sashimi or you could also use smoked salmon. Check out the original recipe here. 
SERVES: 4-6
Ingredients
carrots 2 large, shredded
beetroot 1 large, peeled and shredded
spring onions 2, thinly sliced
purple cabbage 1 cup finely shredded
shallot 1, finely diced
cherry tomatoes ½ punnet, halved
mint leaves ¼ cup, torn
coriander leaves (cilantro) ¼ cup chopped
alfalfa sprouts 2 handfuls
pumpkin and/or sunflower seeds small handful
salmon fillet 300-400g, remove the skin and pin bones, then slice thinly.
Dressing
fish sauce 1 ½ teaspoons
lemons juice of 2
sesame oil 1 ½ teaspoons
extra-virgin olive oil 2 tablespoons
METHOD
Toss carrots, beetroot, spring onion, cabbage, shallot, tomatoes and herbs together in a large bowl.
Whisk all dressing ingredients together and pour over the vegetables.
Divide salad between bowls and top with alfafa sprouts, seeds and slices of salmon. Enjoy!