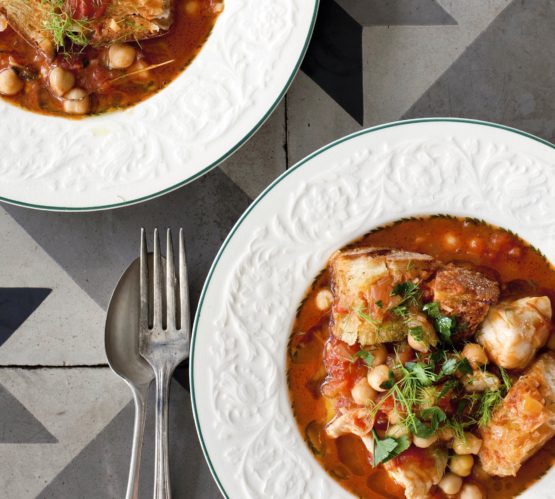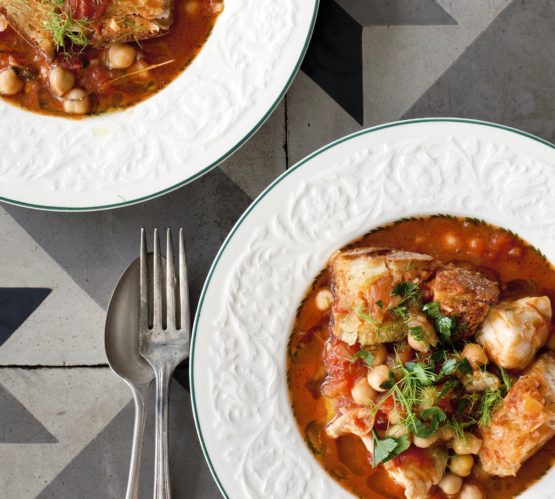 This delightful, easy and simple fish stew recipe by Nadia Lim is packed with loads of goodness from chickpeas to fresh fish and lots of tomatoes and garlic. This fish stew would make a perfect main course for a casual, relaxed winter dinner party. Check out the original recipe here.
Ingredients: 
Fish and chickpea stew
olive oil 2 tablespoons
brown onion 1, diced
garlic 2 cloves, minced
celery 1 stalk, finely diced
red capsicum 1, cut into 2cm chunks
rosemary 2 sprigs
crushed or cherry tomatoes 1 x 400g can
fish or chicken stock 1 ½ cups
chickpeas 1 x 400g can, rinsed and drained
dried chilli flakes one pinch (optional)
firm-flesh white fish 500g, boneless and skinless e.g. trevally, hapuka, lemonfish, cut into large 3cm chunks
lemon juice of ½
good quality extra-virgin olive oil to drizzle
flat-leaf parsley chopped, to garnish
Garlic croutons
sourdough or ciabatta bread 3-4 slices, cut or torn into 1 inch chunks
garlic 2 cloves, minced
olive oil 3-4 tablespoons
Serves 4
Method:
Preheat oven to 180 degC
 Heat olive oil in a medium-size pot or large fry-pan on medium heat. Sauté onion, garlic, celery and capsicum until soft (about 6-7 minutes).
 Add rosemary sprigs, tomatoes, stock, chickpeas and chilli flakes if using. Bring to a boil, then lower heat and simmer, uncovered, for 15 minutes to allow stew to thicken slightly.
While the stew is cooking, make the garlic croutons. Toss bread chunks with olive oil and garlic and bake in oven until golden and crispy (about 8-10 minutes).
 Add fish and lemon juice to stew, cover and continue cooking a further 3-5 minutes until fish is just cooked through. Turn off heat and season to taste with salt and pepper. Remove rosemary sprigs.
 Divide stew between shallow bowls, garnish with parsley and a good drizzle of boutique extra virgin olive oil. Top with garlic croutons. Serve immediately.