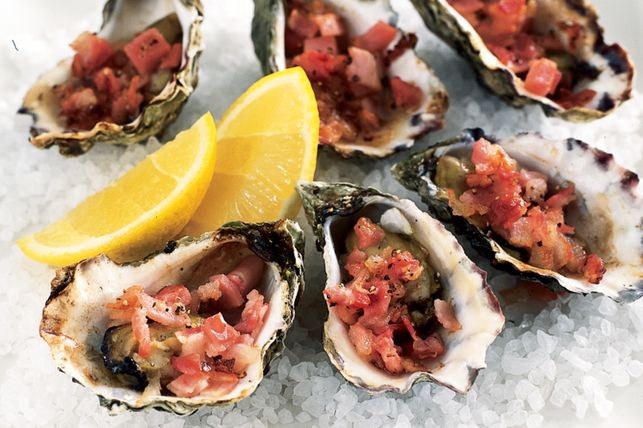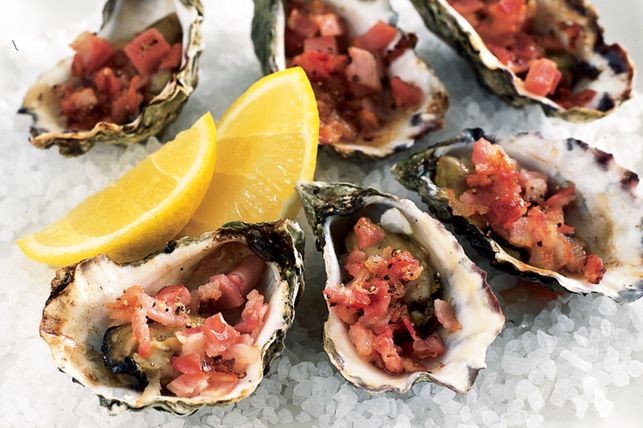 This lovely and light meal is full of flavour and a dish you can cook to impress. It only takes 10 minutes to prep and 5 to cook, so it's the perfect quick and easy entree. Check out the original recipe by Julie Goodwin here. 
INGREDIENTS
2 rashers bacon
¼ cup tomato sauce
1 tablespoon Worcestershire sauce
½ teaspoon Tabasco
1 tablespoon fresh parsley, finely chopped
Lemon wedges to serve
METHOD
STEP 1 | Preheat the grill to 200°C.
STEP 2 | Cut the bacon into the finest strips you can. In a frying pan over high heat, sauté until it goes lightly golden and starting to crisp.
STEP 3 | Combine the sauces and Tabasco in a small bowl.
STEP 4 | Place the oysters on a tray on a bed of rock salt so they are stable and level. Divide the bacon between the 12 oysters and top with teaspoonfuls of the sauce.
STEP 5 | Put under the hot grill for 2 minutes or until the sauce is bubbling.