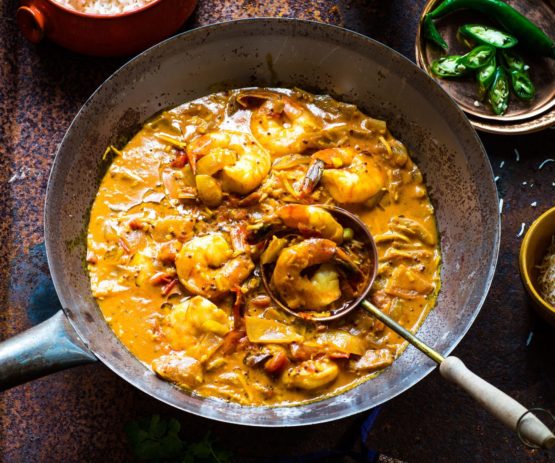 This Nadia Lim curry is the perfect recipe for an easy winter meal these school holidays. It has a beautiful rich sauce with delicious prawns and you could easily add fish as well. This curry is gluten free, dairy free, and if you use mild curry powder it's great for the kids. Check out the original recipe here.
INGREDIENTS:
oil 2 tablespoons
onion 2, chopped
garlic 3 cloves, chopped
mustard seeds 3 teaspoons
curry powder* 2 teaspoons
ground turmeric 1 teaspoon
salt ¾ teaspoon
ginger 3 centimetre piece, peeled and grated or finely chopped
coconut milk 400 gram can
shredded coconut ½ cup
crushed tomatoes 400 gram can
tamarind purée 2 tablespoons
lemon 1, juice
brown sugar or coconut sugar 1 tablespoon
prawns 600 grams, raw, shelled, with the tails left on
SERVE WITH: 
toasted shredded coconut
fresh red chilli chopped
steamed rice
METHOD:
Heat oil in a wok or a large heavy-based frying pan on medium heat. Cook onion for 8-10 minutes or until golden. Add garlic, mustard seeds, curry powder, turmeric, salt and ginger and continue cooking for 2 minutes, stirring constantly, until spices are fragrant.
Stir in coconut milk, shredded coconut, tomatoes, tamarind purée, lemon juice and sugar. Simmer for about 8-10 minutes to allow sauce to reduce slightly.
Add prawns and continue to cook for about 5 minutes or until prawns are just cooked through. Season to taste with more salt if needed but it should be about perfect. If adding fish to the recipe now would be the time to add it in. Trevally or Kingfish would be a delicious addition to this curry.
Garnish with some toasted shredded coconut and chilli. Serve with rice.
Try this
If you can't find tamarind purée, replace with 2 Tbsp lemon juice mixed with 2 tsp brown sugar.