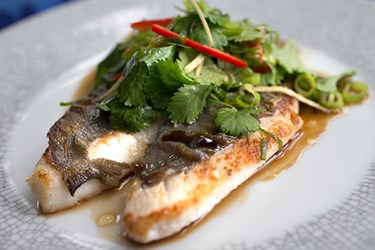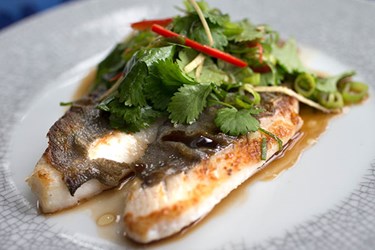 John Dory is a fantastic fish to cook with the skin on and this recipe by Karena & Kasey Bird showcases its great flavour. Check out the original post here.
Our family prefers to cook fish with the skin on, getting it nice and crispy. This dish is super tasty, fresh and zingy. The only tip we always tell people about cooking a nice piece of fish is that you have to go with the feel. Every pan, stove and even the thickness of the fillet will alter the amount of cooking time needed. Touch the fish gently and it should just move under your finger but not be too firm.
Ingredients:
1 shallot, peeled and very finely chopped
1 Tbsp mint leaves, finely sliced
½ cup coriander leaves
1 red chilli, thinly sliced
3cm ginger, julienned
2 Tbsp fish sauce
1 Tbsp soft brown sugar
1 Tbsp soy sauce
Juice of 3 limes
4 John Dory fillets, skin on
¼ cup flour
Olive oil, for frying
Directions:
1 Mix together the shallot, mint, coriander, chilli and ginger and set aside.
2 Mix together the fish sauce, brown sugar, soy sauce and lime juice and set aside.
3 Heat a frying pan on a high heat with some olive oil. Dust the fillets with flour and season well with salt and pepper. Place the fillets in the pan skin-side down and cook for one minute, then flip and cook for a further minute. Remove from the pan.
4 Place a handful of the herb salad on each fillet and spoon over the dressing.