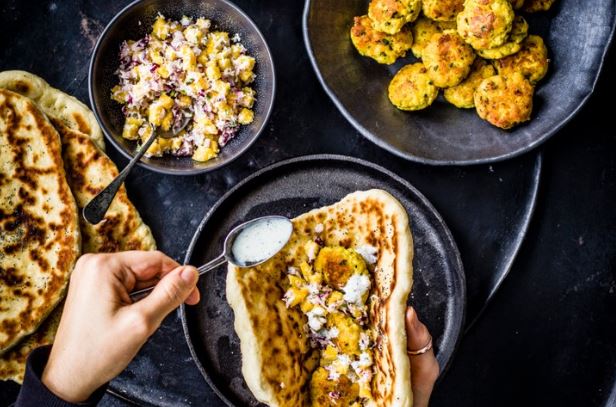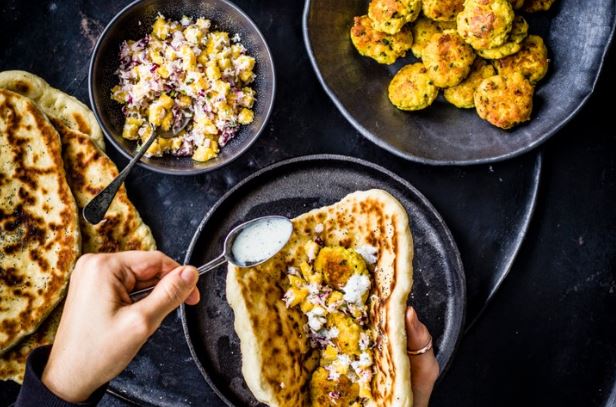 Have a go at this delicious Indian fish sandwich with creamy raita and punchy chutney it is sure to be full of flavour. Check out the original recipe here.
INGREDIENTS:
FLATBREADS
300g natural yogurt
350g self-raising flour
1 tsp baking powder
25g salted butter melted
2 tsp black poppy seeds
groundnut oil for brushing and frying
KOFTA (FISH) 
2 cloves crushed garlic
1 tbsp finely grated ginger
50g fresh breadcrumbs
handful of chopped coriander leaves
1 tsp ground cumin
1 tsp ground turmeric
1 tsp ground coriander
500g skinless 

firm 

fresh fish, chopped into small pieces, gurnard or trevally would be perfect
MANGO AND COCONUT CHUTNEY
½ ripe mango finely diced
50g coconut grated
½ small red onion, finely diced
½ green chilli, finely chopped
1lime, juiced
handful of coriander leaves, chopped
RAITA (SAUCE)
200ml natural yogurt
handful of mint leaves
1 clove garlic, crushed
METHOD:
To make the flatbreads, put the yogurt into a bowl and mix in the flour, baking powder and 1 tsp of salt. Knead briefly to bring together as a dough. Leave in a covered bowl for 30 minutes.
Put all the kofta ingredients in a food processor, season well, and pulse until combined. Form into 20 small patties and chill for 20 minutes.
Mix together the chutney ingredients well, season, cover and leave at room temperature. Whizz the raita ingredients in a small processor then season.
When cooking the flatbreads, divide the dough into 4 and roll out to rounds of 21-22cm on a lightly floured work surface. Heat a heavy non-stick frying pan to medium-high. Lightly brush a flatbread with oil, put in the pan and cook for 2-3 minutes on each side or until it starts to puff and turns a dark golden colour. Brush with butter and sprinkle with poppy seeds. Keep warm wrapped in foil in a low oven while you cook the rest.
To cook the koftas, add a little oil to a non-stick frying pan and fry the patties for 3-4 minutes each side, in batches, until cooked through.
Divide the koftas between the flat breads, spoon on some chutney and raita, and add a few extra herbs, if you like and enjoy.
Serves: 4