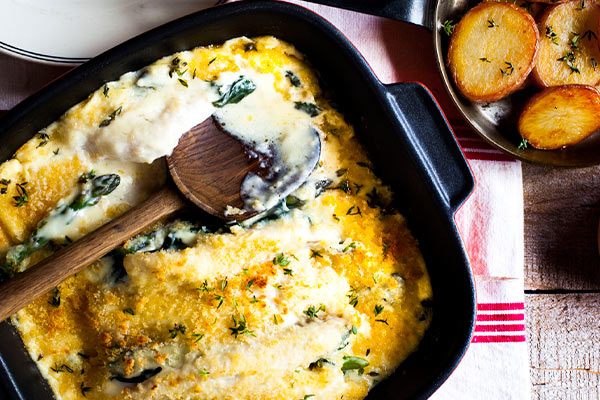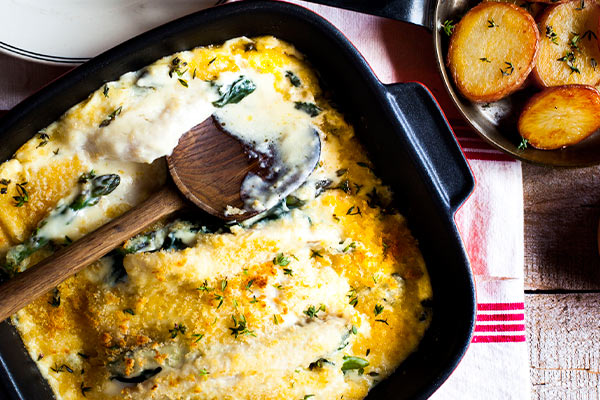 Here's another tasty fish recipe for you to try with this weeks special. Check out the original recipe by Kathy Paterson here.
The pie can be made ahead, just remember to have all ingredients cold before you assemble, cover and refrigerate until ready to cook. Remove from the fridge 20 minutes before cooking.
Pan-fried potatoes
Directions
Heat the oven to 190C.
Wash spinach, then wilt in a large frying pan with just the water clinging to its leaves (60-90 secs). Do this in batches so the spinach wilts quickly. Leave to cool on a plate.
Lay the gurnard fillets flat and place a few wilted spinach leaves on each fillet. Fold fillets lengthwise and place in a lightly greased baking dish in a single layer. Place the remaining wilted spinach around the fillets, tucking spinach under them as well.
To make the white sauce, melt the butter in a heavy-based saucepan, add the flour and stir over a low heat for about 2 minutes to cook the flour. Remove the saucepan from the heat and pour in the milk, stirring continuously to avoid lumps. Return to the heat and cook, again stirring continuously until the sauce is thick and shiny. Season to taste. Remove from the heat and stir through the parmesan. Spoon over the fish.
If not using immediately, you can sprinkle the parmesan over the surface of the white sauce to prevent a skin forming. Combine the breadcrumbs with the extra parmesan and thyme leaves and scatter over the white sauce.
Cook in the oven for 25-30 minutes until hot and bubbling around the edges, but being careful not to overcook the gurnard.
Tip
You can tuck a few steamed spears of asparagus in the gurnard fillets along with the spinach. Instead of the parmesan use a grated tasty cheddar — up to ½ cup in total.
Pan-fried potatoes
The potatoes will sit quite happily in the frying pan ready to fry when you are ready. Choose small to medium-sized potatoes as these are easier to boil whole. If the potatoes are thin-skinned there is no need to peel them. If you have leftover cooked potatoes in the fridge, use those.
Boil the potatoes until just tender, about 20 minutes. Drain, then slice or chunk the potatoes.
Melt the butter in a large frying pan over a low heat and add the oil when the butter is sizzling. Then add the potatoes, which should sit comfortably in a single layer.
Fry slowly, shaking the frying pan from time to time. If the potatoes crumble a little that is good, as you will end up with lovely crisp bits. Keep the heat low so not to burn the potatoes. Fry for about 20 minutes until golden and crisp.