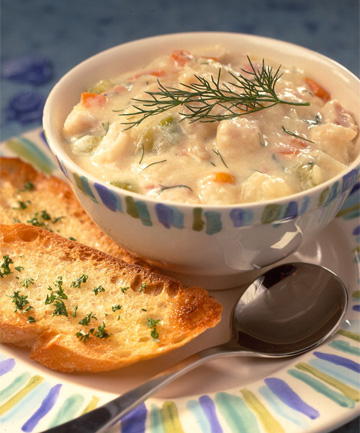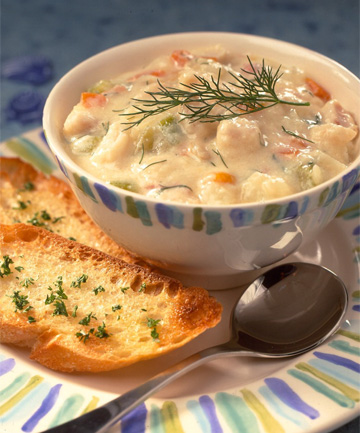 The cold snap has arrived and what better way to warm up the household with a tasty fish chowder by Alison Holst. Check out the original stuff post here.
This satisfying and easy chowder can be knocked up in less than half an hour. Equally impressive is the fact that it's a complete meal in a bowl. We like to add bread or some garlic bread on the side, but this is an optional extra.
We think this makes a great meal just as it is, but we've included a few variations at the bottom for those occasions when you either want to dress it up a little, or just feel like something a little different.
EASY FISH CHOWDER
For 3-4 servings:
1 Tbsp olive oil
25g butter
1 medium onion, diced
100g bacon, cut into 1cm squares
2 sticks celery, thinly sliced
2 medium potatoes, cut into 1cm cubes
1 medium carrot, finely diced
2 1/2 cups milk
1/2 tsp garlic salt
500g fish fillets, cubed
1 Tbsp chopped fresh dill, or 1/2-1 tsp dried dill (optional)
1 Tbsp cornflour
salt and pepper to taste
chopped fresh dill or parsley to garnish
Heat the oil and butter together in a large pot, then add the diced onion and cook until the onion softens. Add the bacon, celery, potatoes and carrot to the pot and cook, stirring frequently to prevent browning, for about 5 minutes.
Add 2 cups of milk and the garlic salt and simmer for about 10 minutes or until the potato is just tender, then add the cubed fish and dill (if using). Mix the remaining milk with the cornflour and add this to the pot. Bring the chowder to the boil, then reduce the heat and simmer for 5 minutes.
Season to taste with salt and pepper, then ladle into large bowls, garnish with chopped dill or parsley and serve accompanied with crusty bread or garlic bread if desired.
VARIATIONS
For special occasions, stir in 50-100g smoked salmon just before serving (or sprinkle over bowls as a garnish).
Try replacing some of the fish with cubes of fresh salmon fillet (often this is not that much more expensive than regular fish).
Add some chopped steamed mussels with the fish.
Add 1/2 to 1 cup of frozen prawns with the fish.