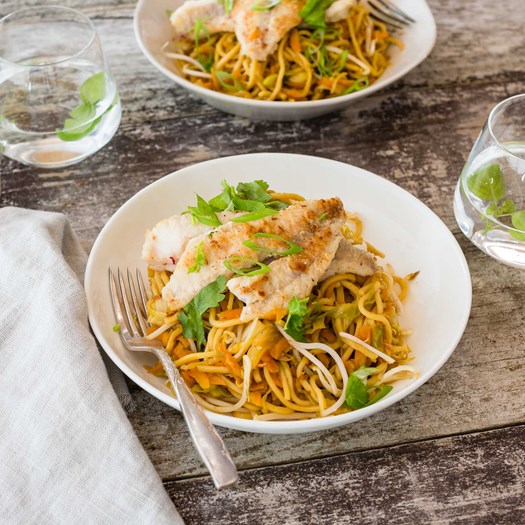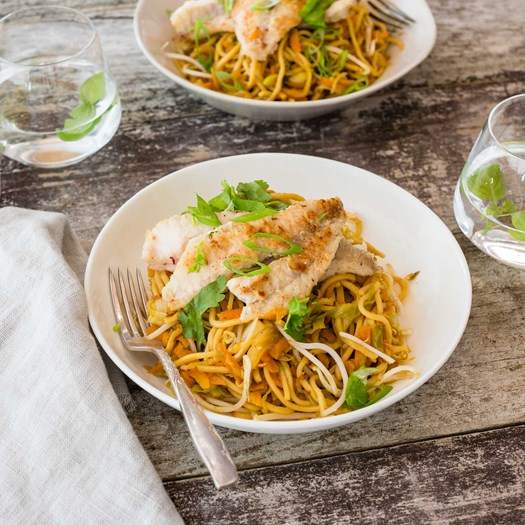 This speedy stir-fry recipe is easy to make and ready to eat in just 30 minutes! It is full of flavour and packed with vegetables. With the nice crunchy texture from the fish and the tasty noodles this is sure to impress. Check out the original post here.
INGREDIENTS:
CRISPY FISH
2 tablespoons flour
1 teaspoon mie goreng spice mix
1/2 teaspoon salt
1 tablespoon olive oil
NOODLE STIR-FRY
2 cloves garlic, minced
1 spring onion, finely diced
2 teaspoons mie goreng spice mix
1 tablespoon sesame oil
350g fresh noodles
1 tablespoon olive oil
1/2 cabbage, finely shredded
2 carrots, grated
100g  bean sprouts
2 spring onions
Juice of 1/2 a lemon
NOODLE SAUCE
2 tablespoons water
3 tablespoons soy sauce
1-2 tablespoons sweet chilli sauce
1 tablespoon fish sauce
METHOD:
Boil a full kettle of water to cook the noodles later in the recipe

Pat fish dry with paper towels, remove any remaining scales or bones and cut into 6 cm pieces. In a medium bowl toss the remaining crispy fish ingredients and set aside.

In a separate bowl, combine garlic, spring onion, mie goreng spice mix and sesame oil and mix well to make a paste. In another bowl, mix all noodle sauce ingredients together. In a heat-proof bowl, pour boiling water over noodles and use a fork to separate strands. Drain immediately. Set all aside.

Heat olive oil in a fry-pan on high heat. Cook garlic/spring onion/sesame oil paste for 30 seconds until fragrant. Add cabbage and carrots, stir-fry for 2 minutes then add noodles and noodle sauce. Cook for 1 minute, tossing to coat. Set aside and keep warm.

While stir-fry is cooking, heat oil in a fry-pan on high heat. Cook fish, in batches, for 1–2 minutes each side, or until golden and crispy. Adding more oil, if needed.

Toss mung bean sprouts, spring onions and lemon juice through noodles.

Divide noodle stir-fry between bowls and top with a few pieces of crispy fish. Garnish with coriander and spring onion. Serve lemon wedges on the side and squeeze over just before eating.