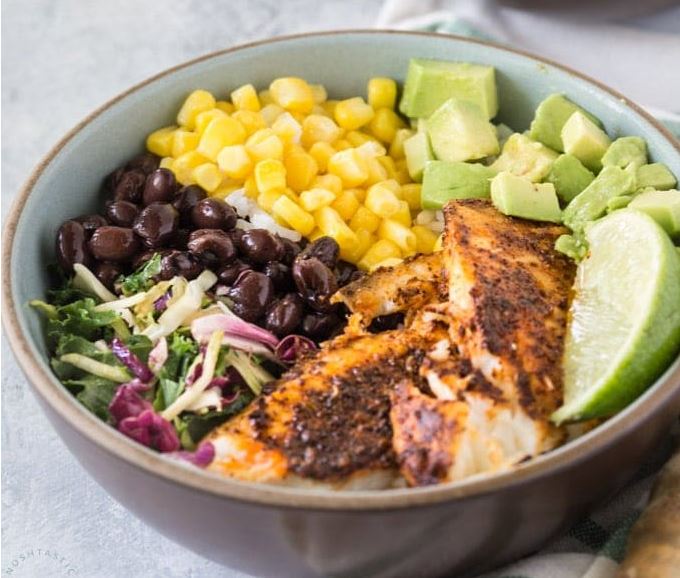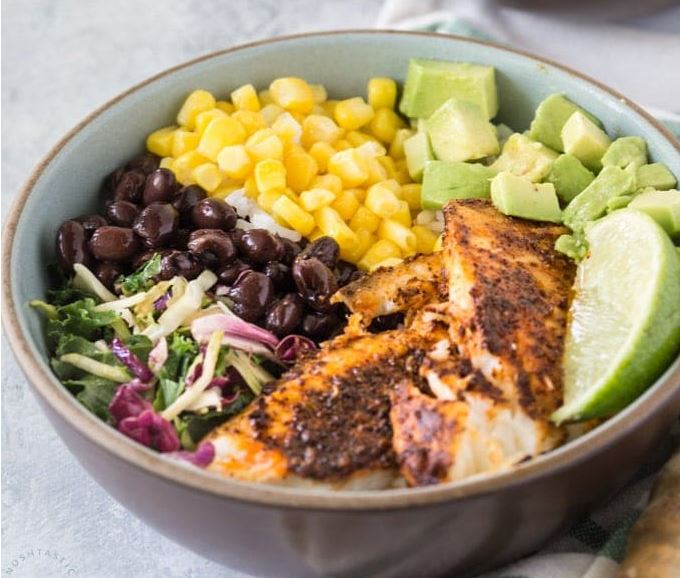 Made from scratch Fish Taco Bowls are delicious! You can change up the vegetables to add your favorites, it cooks really quickly and makes for a healthy easy meal in minutes. Check out the original recipe here.
INGREDIENTS:
BLACKENING SPICES
1 tbsp paprika
1 tbsp ancho chilli powder
1/2 tsp dry mustard powder
1/4 – 1/2 tsp cayenne pepper
2 tsp ground cumin
1/2 tsp salt
1 tsp ground black pepper
1 tsp dried oregano
1/2 tsp onion powder
1/2 tsp garlic powder
BOWL INGREDIENTS
2 tbsp olive oil
4 white fish fillets
1 cup cooked rice , to serve
1/2 cup red cabbage , shredded
1 cup frozen corn , or fresh
1 cup black beans , drained
4 green onions , sliced
1 avocado , cut into small pieces
2 limes , quartered, to serve
METHOD:
In a small bowl mix together all the fish taco spices and seasonings listed above.
Rub the spice mix over both sides of the fish fillets.
Heat a cast iron skillet on high heat until hot and add the oil, give it a minute to heat the oil.
Add the fish to the skillet and cook for 3-4 mins per side on a medium heat until it's cooked through, it will be blackened on the outside, but not burnt.
To bake fish in the oven, add the spice rubbed fish to a sheet pan and bake in a hot oven for 10-20 minutes or until the fish is cooked through.
Add cooked rice to bowls and serve with the fish and vegetables and beans on top, if you like you can add sour cream and cheese too.
Assemble your fish taco bowl with cooked rice, black beans, corn, shredded cabbage, green onions, chopped avocado, slice of lime, and top with sour cream if desired.