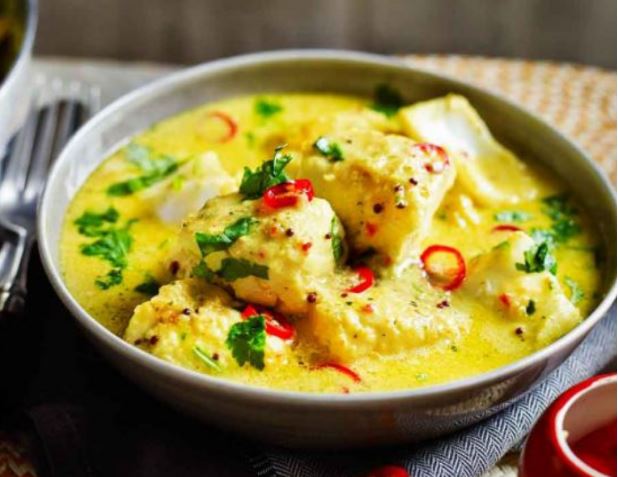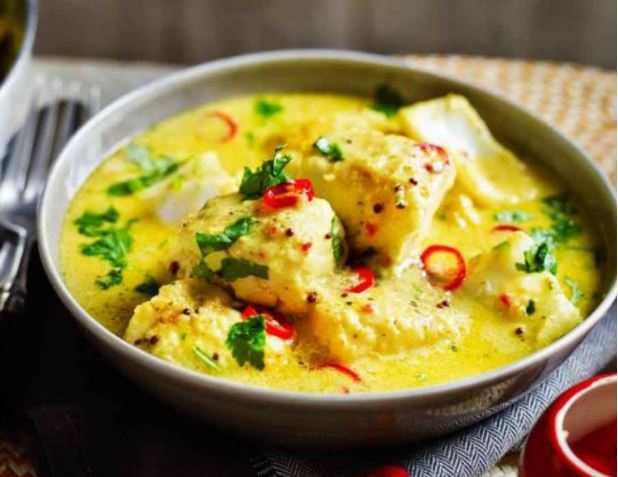 Lightly spicy, this is a wonderful creamy fish curry perfect for warming the soul. Check out the original recipe here. 
Ingredients
600g firm white fish
1 tsp mustard seeds
2 tsp butter
400ml coconut milk
1 tsp tamari
1-2 limes
½ tsp maple syrup
For the spice paste
2 tsp ground turmeric
2 tsp ground cumin
1 large onion, halved
1 red chillies, or 2 if you want more kick
2 garlic cloves
3cm piece root ginger
20g coriander, leaves and stalks kept separate – use the stalks only in the paste (reserve the leaves for later)
Directions
In a food processor, blend the spice paste ingredients and 1 tablespoon water together until smooth – you might need to pulse a few times first.
Cut the fish into 2cm cubes and season with a little salt and pepper. In a medium saucepan, gently toast the mustard seeds until they pop then add the ghee or butter; add the paste. Turn up the heat and fry for about a minute, stirring regularly to stop the bottom from catching.
Add the coconut milk and bring to a medium simmer, put the lid on for 5 minutes. Add the fish cubes to the sauce and gently poach, covered, for about 3-4 minutes, until cooked through.
Turn off the heat, add the tamari and squeeze over lots of lime juice. Season to taste, adding the maple syrup if you think it needs a little sweetness for balance. Serve topped with the reserved coriander leaves, with steamed broccoli florets or sautéed bok choy.