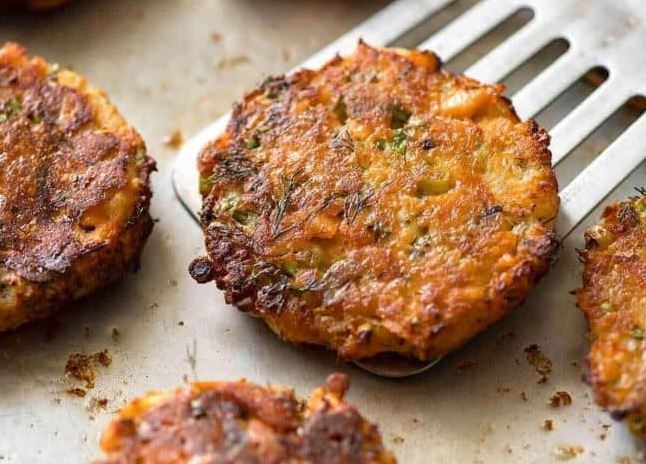 Salmon Patties – quick to prepare, golden and crispy on the outside, moist and savoury on the inside with lovely big flakes of salmon! Check out the original recipe here. 
INGREDIENTS:
1 cup panko breadcrumbs
small onion grated
1 garlic, minced
400g cooked salmon
2 shallots, finely sliced
1/3 cup fresh dill, roughly chopped
2 eggs
1/2 cup parmesan, grated or shredded
1/4 tsp each salt and pepper
Cooking:
2 tbsp vegetable oil
Oil spray
INSTRUCTIONS:
Preheat oven to 220C
Place breadcrumbs in a bowl. Grate over onion, including juices. Mix onion into breadcrumbs, ensuring all breadcrumbs are soaked.
Add remaining ingredients except salmon. Mix well.
Add salmon. Stir through gently, leaving flakes of salmon (rather than vigorously mixing salmon into tiny pieces).
Scoop up 1/4 cup mixture. Form round patties about 1.5 cm thick and set aside.
Drizzle oil all over tray. Place in oven for 2 minutes until hot – oil will spread over tray. Tilt tray to spread if needed.
Place patties on tray – DO NOT press down makes them stick on tray. Spray surface with oil spray.
Bake 15 minutes. Flip, spray surface with oil spray, bake 5 minutes.
Serve with sour cream or yoghurt on the side for dipping / dolloping, and extra fresh dill if desired.