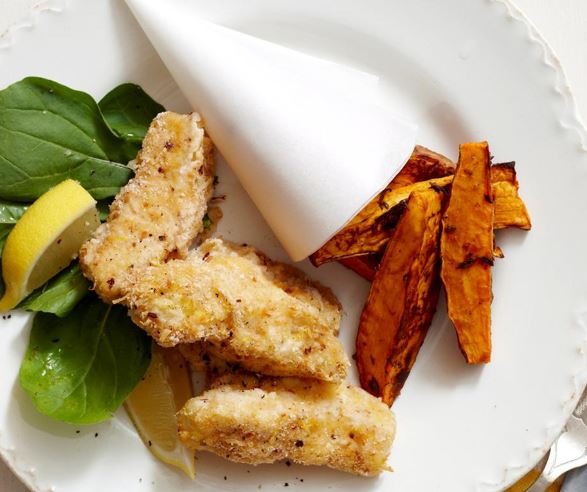 Check out this version of healthy and easy homemade fish fingers and chips. It is the perfect meal for these school holidays and with a recipe for homemade tartare sauce what more could you want?! Any firm white fish would work great for this recipe such as Gurnard, Warehou, Trevally or Lemonfish! View the original recipe here.
INGREDIENTS:
Fish fingers with sweet potato wedges
2 sweet potatoes, peeled, cut into wedges
1 tablespoon olive oil
Tablespoon dijon mustard
1 tablespoon thyme leaves
500g white, skinless, boneless fish fillets, cut into strips
1/4 cup seasoned flour
1/3 cup low-fat milk
1 egg, lightly beaten
1 cup dry breadcrumbs
Tablespoon grated parmesan
Teaspoon grated lemon zest
salad, tartare sauce, lemon wedges, to serve
1/2 cup low-fat mayonnaise
1 tablespoon chopped capers
1 tablespoon chopped parsley
Green onion, chopped
1 teaspoon finely grated lemon zest
1 teaspoon lemon juice
METHOD:
Preheat oven to very hot, 220°C (200°C fan-forced). Line 2 oven trays with baking paper.
In a large bowl, toss sweet potato with oil, mustard and thyme and season to taste. Arrange in a single layer on one prepared oven tray. Bake 20 minutes.
Meanwhile, toss fish pieces in flour, shaking off excess. Dip into combined milk and egg, then combined breadcrumbs, parmesan and zest. Press firmly and place on second tray. Chill 15 minutes. Spray with oil.
Bake fish and wedges for a further 10-15 minutes, turning fish halfway through cooking, until golden and cooked through.
To make tartare sauce: Combine all ingredients in a small bowl, stirring well. Serve fish with wedges, salad, tartare sauce and lemon wedges.