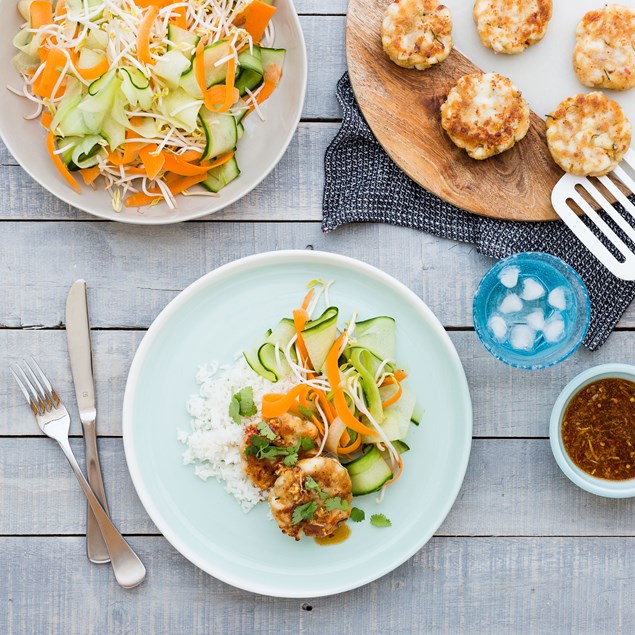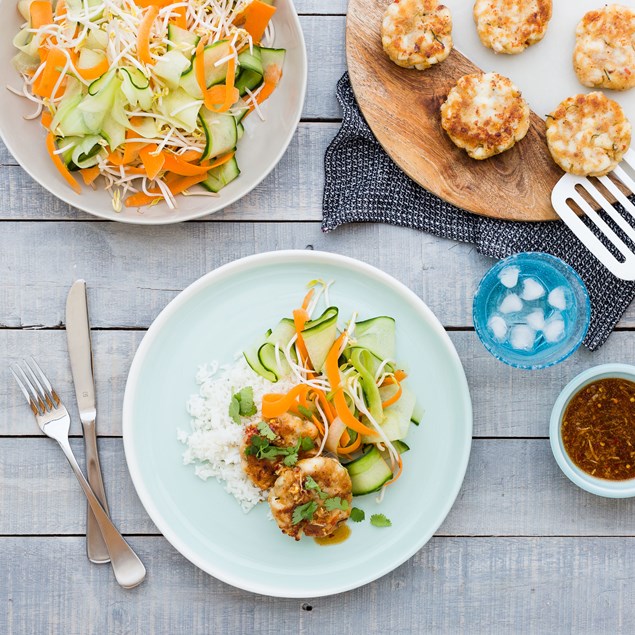 Our special this week Red Cod will work perfectly for these tasty Asian-style fish cakes with coconut rice. Check out the original recipe by Nadia Lim here.
INGREDIENTS:
COCONUT RICE
1½ cups jasmine rice
½ cup coconut cream (shake well before opening)
1¾ cups water
¼ teaspoon salt
ASIAN-STYLE FISH CAKES
450g fish fillets
1 teaspoon GF green curry paste
½ kaffir lime leaf, tough central stem removed and thinly sliced
1½ teaspoons GF fish sauce
3 teaspoons GF mild sweet chilli sauce
1 egg
½ cup GF panko breadcrumbs *
½ teaspoon salt
VEGGIES
2 carrots, peeled
½ telegraph cucumber *
150g mung bean sprouts
DRESSING (OPTIONAL, ADULTS)
Pinch of chilli flakes (optional)
2 teaspoons finely grated ginger
1 clove garlic, minced
Juice of 1 lemon
2 teaspoons GF soy sauce
1½ tablespoons GF mild sweet chilli sauce
1 tablespoon sesame oil
½ teaspoon GF fish sauce
TO SERVE
2 tablespoons GF mild sweet chilli sauce (optional)
METHOD:
1 Combine all coconut rice ingredients in a medium pot and bring to the boil. As soon as it boils, stir and cover with a tightfitting lid and reduce to lowest heat to cook for 15 minutes. Turn off heat and leave to steam, still covered, for a further 10 minutes. Do not lift lid during cooking.
2 Pat fish dry with paper towels and remove any remaining scales or bones. Finely dice fish until it resembles a fine mince. Place minced fish and all remaining Asian-style fish cake ingredients into a medium bowl and mix to combine. Using a ¼ cup measure, scoop out mixture and shape into patty-shaped cakes.
3 Heat a drizzle of oil in a large fry-pan on low-medium heat. Cook fish cakes, in batches, for 2-3 minutes each side, or until golden and just cooked through. Set aside, covered, to keep warm between batches.
4 While fish cakes are cooking, peel carrot and cucumber into long, thin ribbons, stopping when you reach the core (discard cucumber core and seeds or roughly chop). Add carrot and cucumber to a bowl with mung bean sprouts and a drizzle of olive oil (if desired). Toss to combine and season to taste.
5 In a small bowl, whisk all dressing ingredients together, until combined (if using)
TO SERVE spoon 3/4 cup cooked coconut rice onto each plate and top with Asian-style fish cakes and veggies. Spoon over dressing (if using) or serve mild sweet chilli sauce on the side (for kids if not having dressing) for dipping.
SERVES 4-5