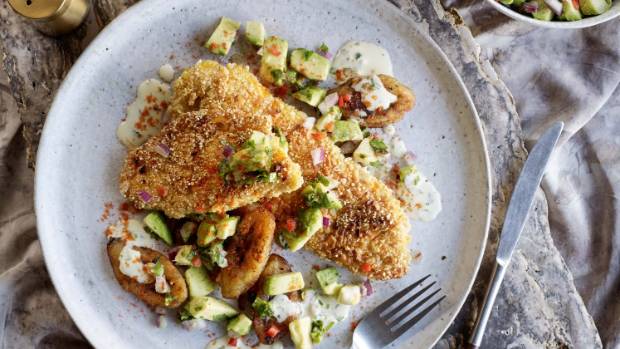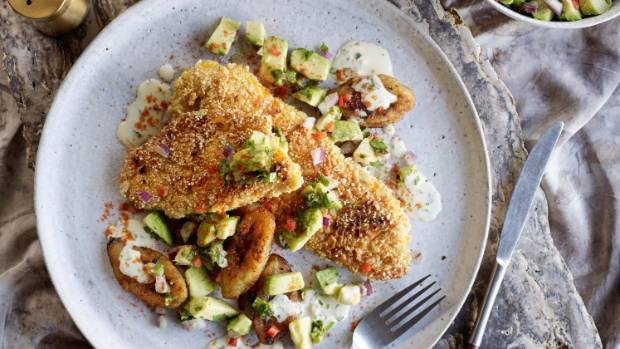 Check out this South American inspired almond-crusted tarakihi with lime sauce & banana recipe by Fiona Smith. You can find the original post here.
I love the South American vibe of the original recipe from 1988, and have built on this idea in my updated version. I have twice-cooked the banana, as is done for Peruvian tostones, and used the avocado in a salsa for added flavour. I also like to add some cornmeal to the crumb, and I like to grind my own almonds for a chunkier texture.
ALMOND-CRUSTED TARAKIHI WITH LIME SAUCE & BANANA
Serves 4-6 / Preparation 25 minutes / Cooking 20 minutes
½ cup medium/coarse cornmeal or polenta
1 cup (140g) ground almonds
1 cup flour
2 eggs, lightly beaten
1kg skinless, boneless tarakihi fillets
2 tablespoons white wine vinegar
5 tablespoons lime juice, plus 1 whole lime
2 cloves garlic, crushed
125ml cream
2 avocados, peeled, stoned, chopped
½ cup coriander leaves
1 chilli, finely sliced
1 small red onion, thinly sliced
Sunflower or other neutral oil for frying
2 green bananas
Chilli powder or sauce (optional)
Mix the cornmeal and almonds together in a dish. Put the flour in another dish and season well with salt and freshly ground pepper. Put the egg in a third dish.
Dip the fish in the flour, then egg, then coat with the almond crumb. Refrigerate for at least 15 minutes.
Put the vinegar, 4 tablespoons of the lime juice, the garlic and cream into a saucepan and bring to a simmer. Simmer, stirring occasionally, until the sauce is thick – about 10 minutes. Reheat when ready to serve.
In a small bowl, combine the avocado, coriander, chilli, onion and the remaining 1 tablespoon of lime juice. Cut the top and bottom off the whole lime. Cut away the skin and pith. Carefully slice between each segment to remove the flesh and add to the salsa.
Peel and slice the bananas into 1cm slices. Fill a frying pan with enough oil to shallow fry and heat over medium-high heat. Fry the banana slices for about 1-2 minutes each side or until light golden.
Remove to a piece of paper towel to cool then sqauash slightly with the side of a knife. Re-fry for another minute on each side until golden. Drain and set aside.
Lower the oil temperature to medium and cook the fish fillets for 1-2 minutes (depending on thickness) each side. 
Serve with the salsa, sauce and bananas and sprinkle with chilli powder or sauce for extra heat, if desired.