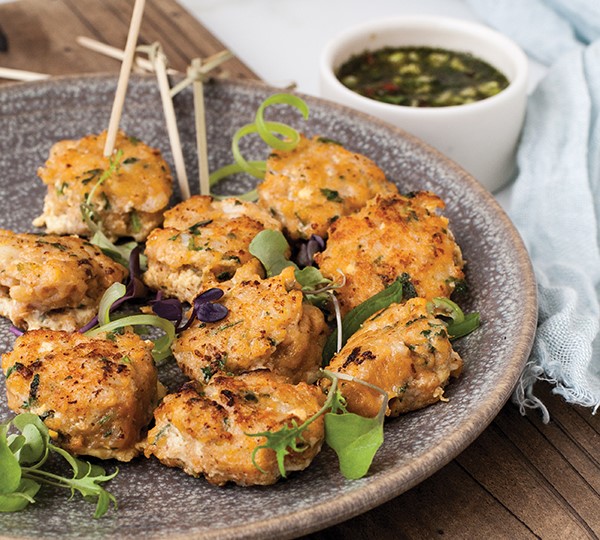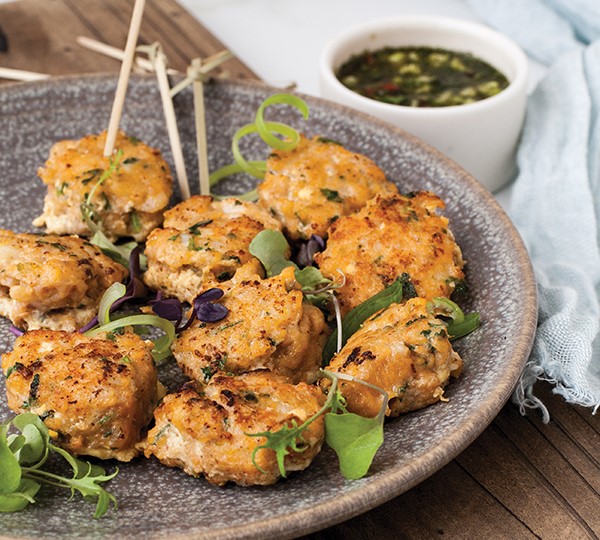 These tasty looking Thai Fish Cakes are a quick and easy dinner option and our special Red Cod is the perfect fish species to use. Check out the original post by Annabel Langbein here.
Ingredients:
250g boneless, skinless white fish fillets
1 egg
finely grated zest of 1 lime
2 tbsp chopped coriander
1 tbsp Red Curry Base or storebought thai red curry paste
2 tsp fish sauce
1 tsp soft brown sugar
a little neutral oil, to fry
microgreens or small salad leaves, to garnish
1/2 recipe Vietnamese Dressing

½ cup Thai sweet chilli sauce
¼ cup rice vinegar
2 tbsp fish sauce
finely grated zest of 1 lime or lemon, no pith
2 tbsp lime or lemon juice
2 double kaffir lime leaves, finely shredded (optional)
To make Dipping Sauce, place all the ingredients in a small bowl and stir to combine.
Combine fish, egg, lime zest, coriander, Red Curry Base or curry paste, fish sauce and sugar in a food processor and pulse 4 or 5 times to a coarse paste. Do not overprocess – you want texture to the fish cakes.
Heat a little oil in a heavy-based frypan and, working in batches, shallow-fry tablespoons of the mixture over a medium heat until springy to the touch and cooked through (about 2 minutes each side). They can be made a few hours in advance, chilled until needed and reheated in an 180°C oven for 5 minutes. Serve warm or at room temperature garnished with microgreens or small salad leaves and accompanied by Vietnamese Dressing.