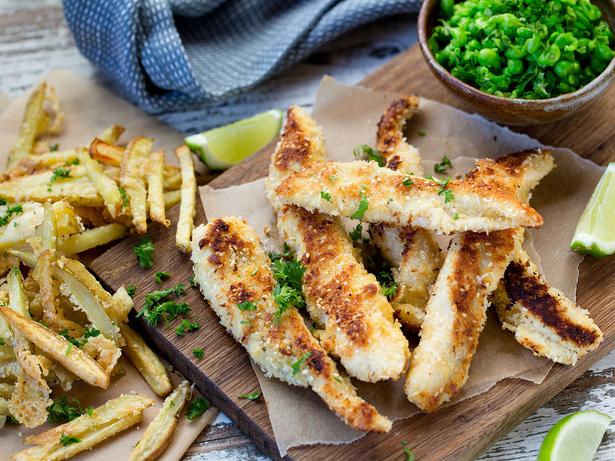 The fish & chip season is just around the corner and there is nothing better than making it at home yourself. Check out the original post by Angela Casley here.
COCONUT FISH RECIPE WITH PARMESAN CHIPS
Serves 4
600g agria potatoes, cut into sticks
2 Tbsp olive oil
1 cup grated parmesan cheese
1 ½ cups breadcrumbs
½ cup desiccated coconut
1 egg, beaten with 2 Tbsp water
Salt and pepper
500g fish fillets
¼ cup flour
2 cup peas
2 Tbsp butter
¼ cup water
2 Tbsp oil for cooking
Lime wedges to serve
1. Preheat an oven to 180C. Line a flat roasting tin with baking paper.
2. Place the potatoes on the tray. Rub over the oil and place into the oven for 20 minutes. Then sprinkle with the cheese and cook for a further 20 minutes until golden and crisp.
3. Combine the breadcrumbs and coconut on a flat dish. Season the egg with salt and pepper. Dust the fish fillets with flour, dip into the egg and roll in the breadcrumb mixture.
4. Place peas and 1 tablespoon butter with ¼ cup water in a microwave dish. Cover and cook for four minutes. Season and mash.
5. Heat the remaining butter and oil in a frying pan. Cook the fish in batches for 2-3 minutes' side depending on the thickness of the fillets.
6. Serve with potatoes, mashed peas and lime