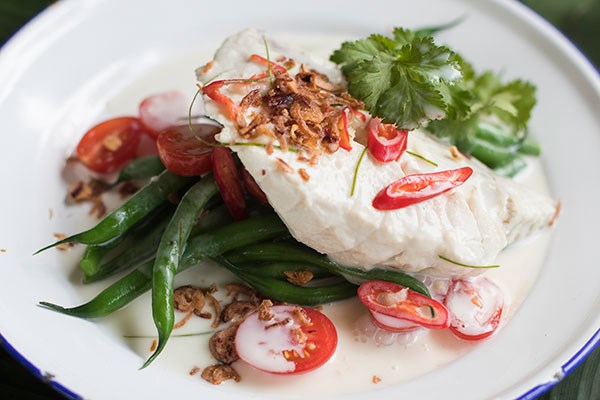 This polynesian inspired dish is sure to pack a lot of flavour and punch. This is good with a side of steamed jasmine rice. Find the original recipe here.
For the dressing
4 Tbsp Lime Juice
3 Tbsp Fish Sauce
2 Tbsp Palm sugar, crushed
100 ml Coconut cream
1 Red chilli, thinly sliced
1 Garlic clove, finely chopped
1 Kaffir lime leaf, central stem removed, leaf very thinly sliced
For the salad
300g Green beans, stalk ends cut off
250g Cherry tomatoes, halved
700g White fish, firm; skinned and boned, cut into 10cm pieces
¼ cup Fried shallots
1 handful Coriander sprigs
Directions
To make the dressing
Put everything in a small bowl and mix well to dissolve the sugar. Reserve.
To make the salad
Boil the beans in plenty of salted water for 3 minutes,remove from the heat, drain and reserve.
Pile the beans and tomatoes on a serving platter.
Steam the fish pieces side by side on a piece of banana leaf or baking paper over moderate heat for about 5 minutes or until just cooked through. (The steaming time will depend on how thick the fish is. Cut a piece open to check that it is cooked, if necessary.)
Remove from the steamer and place on top of the beans and tomatoes.
Spoon the dressing over everything. Sprinkle the shallots and coriander on top and serve.