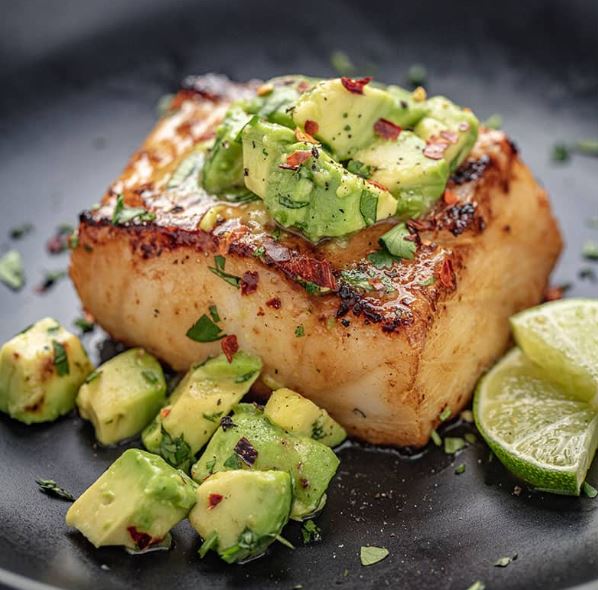 This fresh fish with avocado salsa recipe is light and delicious. Served with this rich avocado salsa, you have a colorful, flavorful dish that always delights! Check out the original recipe here. 
Ingredients
4 portions of fresh fish steaks
2 tablespoons butter melted
1 tablespoon olive oil
2 teaspoons soy sauce
1/2 teaspoon ground ginger
2 large avocados diced small
1 teaspoon minced jalapeno
2 tablespoons freshly chopped cilantro chopped
2 tablespoons lime juice
1 pinch salt or to taste
1/2 teaspoon red pepper flakes to garnish (optional)
Instructions
In a small bowl, whisk together melted butter, soy sauce, ginger, and the juice from the remaining lime. Place fish into a shallow dish and pour marinade over. Flip the fish over until each piece is coated. Place in the fridge until ready to cook, no longer than 15 to 20 minutes.
Make the avocado "salsa" by combining the diced avocado, minced jalapeno, minced garlic, the juice of 1 lime, and cilantro in a small bowl. Add in a pinch of salt. Stir together and set aside.
Heat a large heavy skillet over medium-high heat. Cook the fish by searing it skin side down first (if your fish has skin). It should take about 4 minutes per side to cook through (actual cooking time will depend on the thickness of your filet). The fish is done when it can flake easily with a fork.
Serve the fish hot topped with avocado salsa. Season with additional salt to taste and garnish with red pepper flakes (optional).