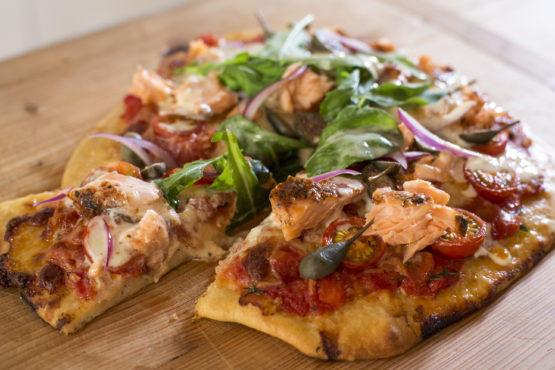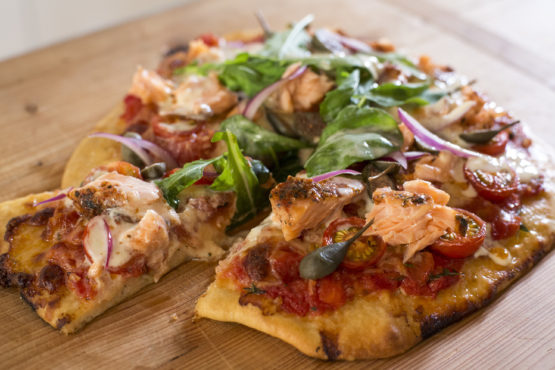 Who doesn't love pizza?! This smoked salmon pizza is a scrumptious winter warmer and is something that you'll find the kids love too. The pizza dough recipe can be kept fresh for a few days in the fridge – simply roll it out when you need it. It'll help you make a super quick dinner on a busy night! Check out the original recipe by Nadia Lim here. 
INGREDIENTS
Home-made pizza dough (makes 4 bases)
1 cup  lukewarm water
1 tablespoon active dried yeast
1 teaspoon sugar
450g plain flour
1 tablespoon olive oil
1 teaspoon salt
Pizza sauce
2 tablespoons olive oil
2 cloves, finely chopped garlic
1 can crushed tomatoes
3 tablespoons tomato paste
1 tablespoon extra-virgin olive oil
1/2 teaspoon dried oregano or mixed herbs
Toppings (enough for 2 pizza bases – double if making 4 pizzas)
1 cup grated mozzarella cheese
1/2 punnet cherry tomatoes
200g hot smoked salmon – or any other smoked fish would work too
1-2 tablespoons chopped capers
1/4, thinly sliced red onion
 handful basil leaves
handful rocket leaves – our Roebuck Farm mixes would be perfect
Lemon creme
1/4 cup sour cream
juice and zest of 1 small lemon
1-2 teaspoons horseradish paste (optional)
METHOD
To make the pizza dough, put the water in a mixing bowl and add the yeast and sugar. Stir gently. Leave in a warm place until the yeast has dissolved and the mixture is very frothy. Mix well.
Place the flour, olive oil and salt in a large mixing bowl. Add the yeast mixture and mix well to form a dough. Knead the dough for 10 minutes until smooth and elastic, then place in an oiled bowl. Cover with a tea towel or clingfilm and place in a warm place to rise until doubled in bulk (about 40 minutes).
Once it has risen divide into 4 even pieces. This recipe uses 2 pizza bases so you can freeze the other 2 pieces of dough (wrapped well in clingfilm) to use at a later date.
Roll out each piece on a floured surface into a disc about 20cm in diameter (the thinner you can get the pizza base, the better).
Preheat oven to 230 degrees. Preheat 2 oven trays. Get them really hot this helps the bases crisp up on the bottom.
To make the sauce, heat olive oil in a medium fry-pan on medium heat. Cook garlic for 30-60 seconds. Add crushed tomatoes, tomato paste and dried herbs. Simmer, uncovered, stirring occasionally, for 10-12 minutes until sauce is thick and the consistency of chutney. Season to taste with salt and pepper.
Lay each pizza base on a sheet of baking paper. Spread tomato sauce over each base, leaving an edge for the crust. Sprinkle over mozzarella and arrange cherry tomatoes on top. Carefully lift up the baking paper with the pizza on top and place on hot preheated stone or tray. Cook the pizza until the base is crisp and the cheese is melted and golden, about 10-12 minutes.
Mix sour cream, lemon zest and juice and horseradish (if using) together and set aside.
Take pizzas out of the oven and arrange flakes of salmon on top, followed by capers, red onion, rocket and basil. Finish with a drizzle of horseradish crème over the top. Slice and serve!