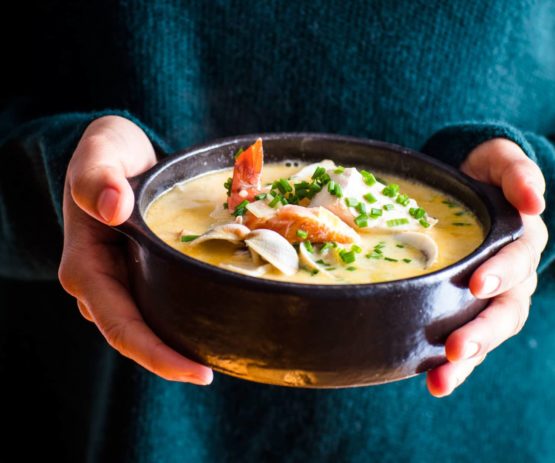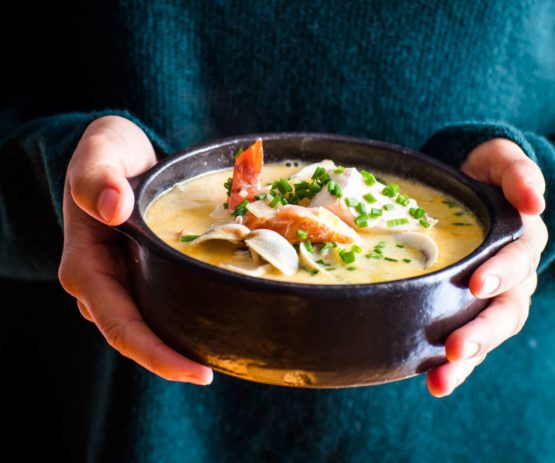 With the cooler weather among us this delicious recipe by Nadia Lim is the perfect meal to warm up your day. Check out the original post here.
INGREDIENTS
butter 50 grams
leek 1, finely chopped (white part only)
garlic 3 cloves, finely chopped
plain flour 2 level tablespoons
milk 2½ cups
fish or chicken stock 2½ cups
cream ½ cup
handful shellfish in shells (eg mussels or clams) scrubbed and cleaned – optional
raw fish eg warehou, monkfish, snapper, tarakihi, hapuku 250 grams, cut into 3-4cm chunks
raw prawns (and/or scallops) 250 grams
smoked fish or salmon 200 grams, flaked
lemon ½, juice
finely chopped parsley ¼ cup
chives, to serve ¼ cup, chopped
METHOD
Heat butter in a large saucepan over medium heat. Cook leek and garlic with a good pinch of salt for a few minutes or until soft.
Stir in the flour and cook, while stirring continuously, for about 1 minute.
Stir in about ½ cup of the milk, stirring continuously to avoid lumps forming. Gradually stir in the rest of the milk, then the stock and cream. Simmer for about 10 minutes, stirring often, until slightly thickened.
Add seafood (if using shellfish, add first and cook for 1-2 minutes before adding other seafood) and continue to simmer for a few minutes or until seafood is just cooked through. Season to taste with salt, pepper and lemon juice. Stir in parsley.
Ladle into bowls, distributing seafood equally, and garnish with chives.Serve with warm flatbread smeared with garlic and herb butter.