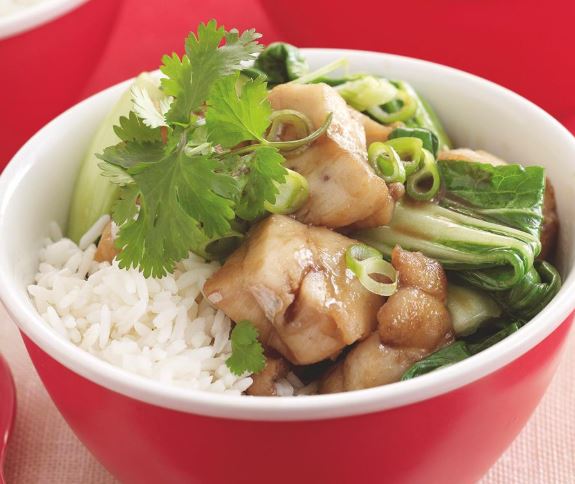 This recipe for tasty Japanese-style Teriyaki fish is a quick and easy weeknight meal full of flavour! Any firm white fish would work perfectly, such as Warehou, Kingfish or Gurnard. To checkout the original recipe click here.
INGREDIENTS
1 tablespoon vegetable or peanut oil
5 piece fresh ginger, peeled, cut into matchsticks
2 bunch (250g) baby bok choy, leaves separated
1 teaspoon sesame oil
600 gram boneless firm white fish fillets, cut into 3 cm pieces
2 1/2 tablespoon teriyaki sauce
3 cup cooked jasmine rice
1/3 cup coriander sprigs
2 green onions, thinly sliced
METHOD
Heat a wok or large frying pan over high heat. Add half the vegetable oil; swirl to coat surface. Add ginger; stir-fry for 1 minute or until fragrant. Add bok choy and sesame oil; stir-fry for 2 minutes or until wilted. Transfer to a heatproof bowl; cover to keep warm.
Heat remaining vegetable oil in wok over high heat. Add fish; stir-fry for 5 minutes or until golden. Add sauce; stir-fry gently for 1 minute or until fish is just cooked.
Divide rice and bok choy among serving bowls; top with teriyaki fish. Sprinkle with coriander and onion and enjoy!