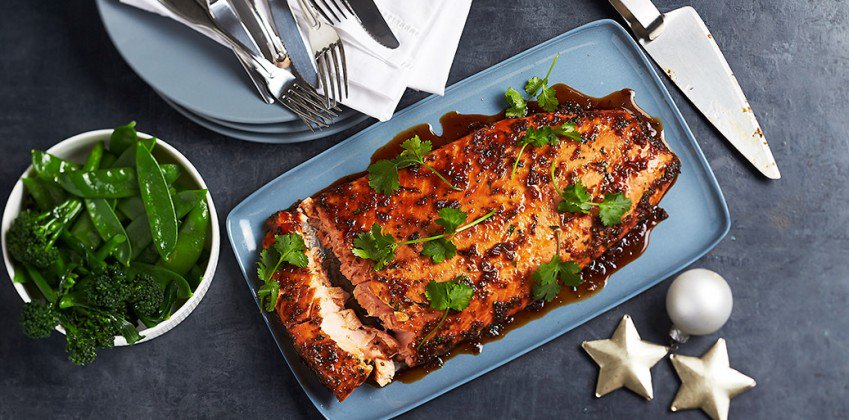 Visually impressive, healthy and easy to prepare, this baked side of salmon recipe is a winner. Check out the original post here.
Ingredients
1/4 cup (90g)  Honey, Warmed, Plus 2 Tbsp Extra, Warmed
1/2 cup (125mL) Soy Sauce
2cm piece Ginger, Finely Grated
1 cup Coriander Leaves, Chopped Coarsely
2 cloves Garlic, Crushed
1 Lemongrass Stem, Chopped Finely
2 tbsp Sweet Chilli Sauce
1.2kg piece Boneless Salmon Fillet
Coriander Garnish, For Serving
How to Cook
Prep Time: 20 minutes | Cooking Time: 20 minutes
Combine honey, soy, ginger, coriander, garlic, lemongrass and sweet chilli sauce
Place salmon in large shallow dish; pour over marinade. Cover and refrigerate 2 hours; turning occasionally.
Preheat oven to 200°C/180°C. Line a large baking dish with baking paper. Drain salmon of excess marinade, place in prepared dish, brush with extra honey. Bake for 20 minutes or until the salmon is just cooked but still a little pink in the centre.
Carefully transfer salmon to serving platter, garnish with coriander stems, serve with lime to squeeze, and steamed green veggies.