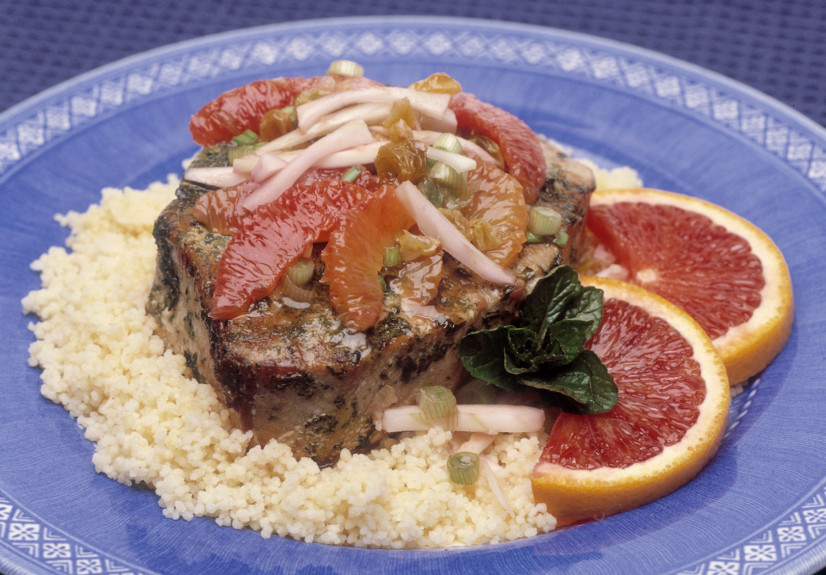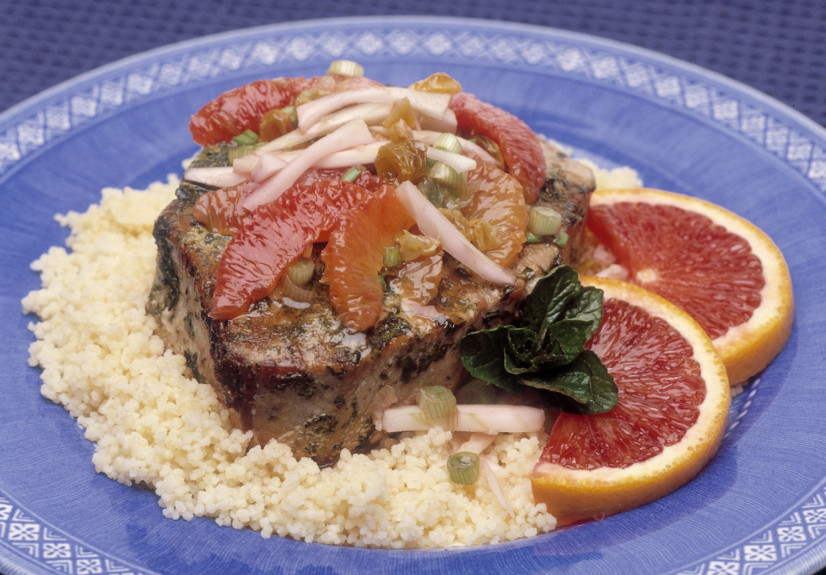 Albacore is a fish that stands up well to other flavours and this Blood Orange relish is a great combination. Blood Oranges are an exotic-looking citrus fruit, the Blood Orange has a crimson-red pigment to its flesh as well as its rind.  They are fantastic cut into peeled sections and used in a relish to top grilled fish. (If you can't find blood oranges, use navel oranges or Cara Cara oranges (the dish will still be a winner). Check out the original post here.
Grilled Tuna with Blood Orange Relish
4 servings
INGREDIENTS
3 blood oranges, peeled and cut into segments; see cook's notes
1/2 medium fennel bulb, trimmed, cut into 1-inch-long matchsticks
3 green onions, trimmed, thinly sliced; include half of dark green stalks
1 1/2 tablespoons roughly chopped golden raisins
1/4 cup red wine vinegar
1 teaspoon honey
Salt and freshly ground pepper to taste
4 big tuna steaks (around 200g each)
1/4 cup minced fresh mint leaves
2 tablespoons olive oil
Cook's notes: To cut citrus into sections, cut parallel slices from both stem and blossom ends of fruit. Place cut-side down on work surface and cut off peel and pith, starting at the top of the fruit and cutting down along the contour of the fruit. Using a sharp, small knife, cut parallel to 1 section's membrane, cutting to center; turn knife and cut along the membrane on the other side of that section to remove it. Repeat until all sections are removed and cut from their membranes.
If desired, you can substitute Kingfish or Trevally for tuna.
PROCEDURE
1. Prepare relish: In medium bowl, combine blood orange segments, fennel, onions, raisins, vinegar and honey. Season with salt and pepper; set aside at room temperature 30 minutes.
2. Preheat your BBQ/light your fire. Rub both sides of tuna with mint and olive oil. Season with salt and pepper.
3. Grill fish to desired degree of doneness. Grilling times will vary depending on thickness of fish and heat of fire/bbq, and the degree of done-ness that you prefer. Place fish on individual dinner plates. Top with relish. Serve immediately.