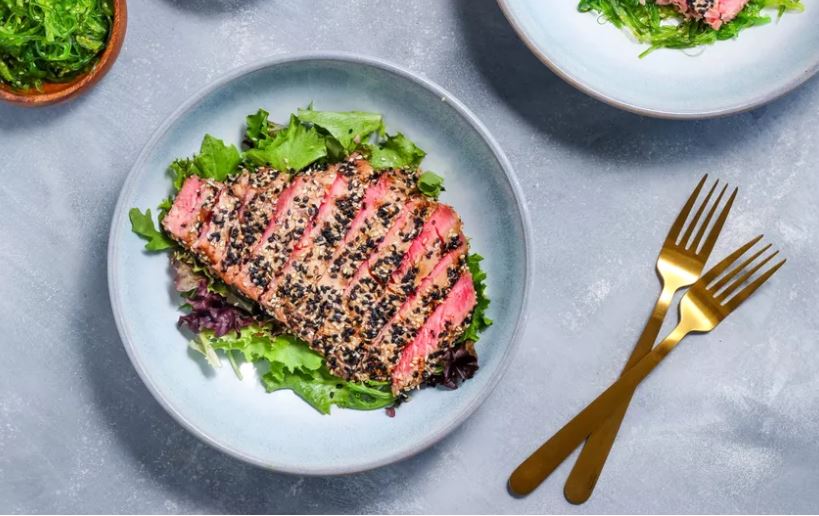 This tuna recipe is quick and easy enough for a weeknight but also special enough for company. It is also very healthy with lots of omega-3 fatty acids and protein. Check out the original recipe here.
INGREDIENTS:
1/2 cup low-sodium soy sauce
1/4 cup chopped scallions
2 tablespoons fresh lemon juice
1 teaspoon sesame oil
 1 teaspoon freshly grated ginger
1/2 cup sesame seeds
1/2 teaspoon corn starch
1 teaspoon water
METHOD:
First in a large zip-top bag, combine the soy sauce, chopped scallions, lemon juice, sesame oil, and fresh ginger. Swish everything around in the bag until it's well combined.
Then add the tuna steaks, turning to coat them completely with the marinade. Press the excess air out of the bag, seal, and marinate in the refrigerator for about 20 minutes.
Next preheat the grill to high heat and place the sesame seeds on a plate or a shallow dish. Remove the tuna steaks from the marinade, brushing the scallions off the steaks; reserve the marinade. One at a time, coat the steaks in sesame seeds on all sides, pressing the seeds onto the steaks so they'll stick.
Then spray the grill plates lightly with non-stick spray and place the steaks on the grill. If using a contact grill, close the cover so the top grill rests evenly on the steaks; do not press down. Grill for about 3 minutes for a rare, pink interior; grill longer if you prefer your tuna cooked through.
If you are using an open grilling surface, carefully flip the tuna steaks with a pair of tongs after 3 minutes and cook for 3 minutes on the other side.
After that remove the steaks from the grill and keep warm.
Then while the tuna cooks, pour the marinade into a small saucepan and bring to a boil. Mix the corn-starch with the water to create a slurry and add to the sauce pan, stirring with a whisk. Simmer for about 3 to 4 minutes, until the sauce thickens.
Finally to serve, slice the tuna steaks on the diagonal into thin pieces. Fan the slices on a plate and drizzle with the sauce.