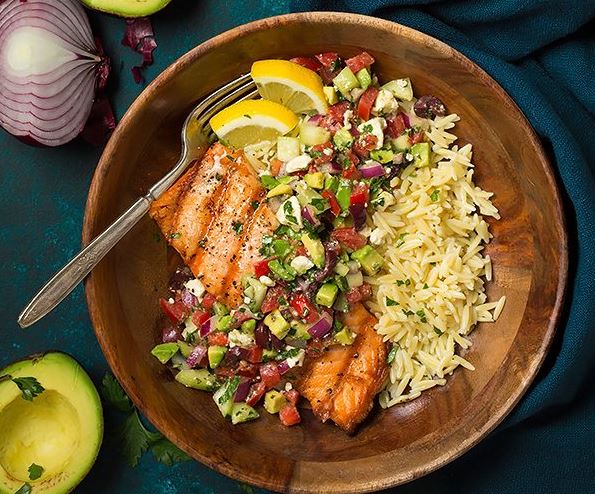 Tender grilled salmon fillets are topped with a fresh, flavorful veggie packed salsa and served with a side of orzo. It's such a delicious, healthy dish that's sure to impress anyone! Check out the original recipe here. 
Ingredients
1 cup dry orzo
3 Tbsp olive oil, divided, plus more for brushing grill
Salt and freshly ground black pepper
2 small Roma tomatoes, diced (1 cup)
1/2 cucumber, peeled and chopped (1 cup)
1/3 cup chopped red onions
1/3 cup chopped kalamata olives
2 garlic cloves, minced (2 tsp)
1 medium avocado, peeled and diced
1/2 cup crumbled feta
2 Tbsp fresh lemon juice
3 Tbsp finely minced fresh parsley
1 Tbsp finely minced fresh oregano
Instructions
Prepare orzo according to directions on package, drain (I recommend tossing with just a little olive oil).
Preheat a grill to medium-high heat to about 200 degrees. Meanwhile chop ingredients for salsa.
Brush both sides of the salmon fillets with 1 Tbsp of the olive oil and season both sides with salt and pepper.
Brush clean grill grates lightly with olive oil then place salmon on grill (close lid) grill until cooked through, about 3 minutes per side.
In a medium mixing bowl toss together tomatoes, cucumber, red onions, kalamata olives, garlic, avocado, feta, lemon juice, 2 Tbsp olive oil, parsley and oregano. Season with salt to taste.
Divide drained orzo among 4 plates then add a salmon fillet to each plate. Top each serving with plenty of the salsa, both over the salmon and the orzo. Serve immediately.