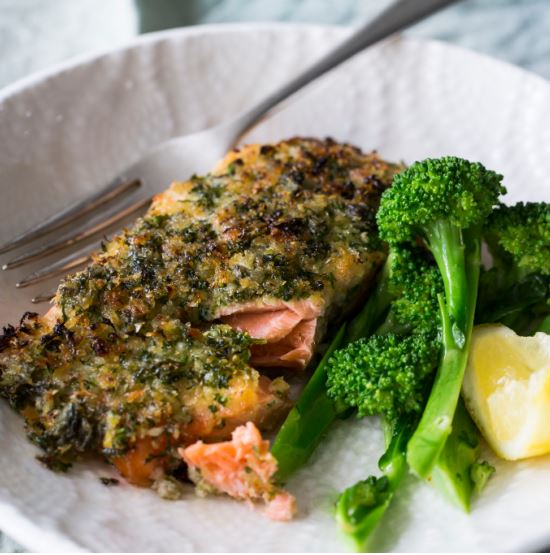 Gremolata is a great addition to cut through the richness of a dish, so it works well with salmon. This meal is perfect for a casual week night – healthy, easy and very quick! Check out the original recipe by Nadia Lim here.
INGREDIENTS:
salmon fillets 4 x 120-150g
curly or flat-leaf parsley ¼ cup very finely chopped
capers 1 tablespoon finely chopped
lemon finely grated zest of 1
garlic 1 clove, minced
panko or other dried breadcrumbs ¼ cup
parmesan cheese 3 tablespoons finely grated
dijon mustard 1 teaspoon, mixed with 1 teaspoon olive oil
extra-virgin olive oil to drizzle
To serve:
lemon 1, cut into wedges
steamed broccoli or other green vegetables
METHOD:
Preheat oven grill to high. Line a baking or oven tray with baking paper.
Mix parsley, capers, lemon zest, garlic, breadcrumbs and parmesan cheese together.
Pat salmon fillets dry with paper towels and place, skin-side-down, on prepared tray. Spread Dijon mustard mixture on top of salmon, dividing equally. Sprinkle the crumb mixture over the top, packing it on lightly. Drizzle with a little extra-virgin olive oil.
Place in the oven (on the middle shelf) to cook for 5-6 minutes or until crust is golden and salmon is just cooked through. Watch it carefully to make sure it doesn't burn as some oven grills can be extremely hot!
Serve with potatoes and salad or steamed broccoli or other green vegetables, and a wedge of lemon to squeeze over just before eating.